Prayers for law enforcement
Posted: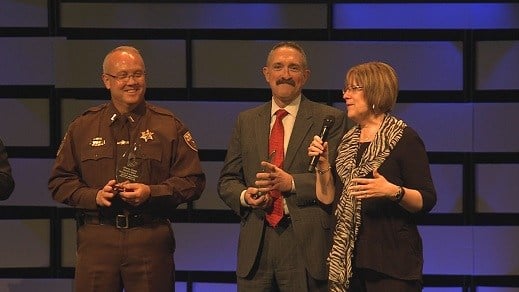 DECATUR - He spoke without shame.
"We get them protective gear, bulletproof vests and other safety gear, said Decatur Police Chief Brad Sweeney. "But, more often than not, the only true assurance we have that they'll go home safely is our faith in God."
Police officers and sheriff's deputies don't typically wear their uniforms to church, but Sunday's worship service at Glad Tidings Assembly of God was unique. Pastor Matthew Samuels dedicated the service to local law enforcement, honoring Sunday's guests with a prayer. Among them, speaking to the congregation alongside Sweeney was Macon County State's Attorney Jay Scott and Macon County Lieutenant Jonathan Butts.
"We pray that our officers, our deputies, make good Christian decisions on the street," said Butts. "That they treat everyone with compassion."
Attorney Scott spoke about the need for wise discernment.
"I have a wall in my office, a plaque with Proverbs 17:15 on it, and it's 'Acquitting the guilty and condemning the innocent, the Lord detests them both.' So we would ask for your prayers that we do the right thing," said Scott. "That we get justice in every case that we do."
After the three spoke, the congregation lift their hands toward the stage and Pastor Samuels began the prayer:
"God, let them know, that we are covering them everyday," said Samuels. "That we appreciate them. That we respect and we honor them and that we made a commitment to lift them up to you. God keep your hand of protection upon them. Thank you, again for their lives. Use them. Continue to use them."
The church awarded all three agencies with glass plaques for their hard work.