Details of Investigation into Illinois WBB Come to Light Following Staff Moves
Posted: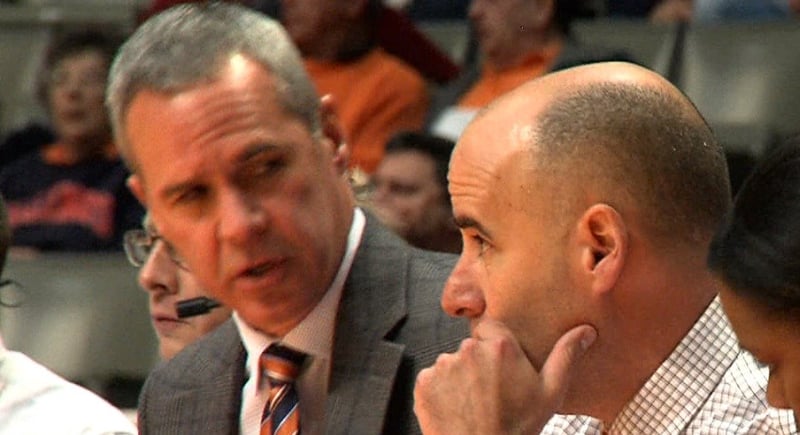 CHAMPAIGN -- A week after an investigation opened into alleged mistreatment within the Illinois football, the women's basketball program is the focus of similar accusations.
Details are still being gathered into allegations of verbal and emotional abuse by head basketball coach Matt Bollant and assistant Mike Divilbiss.
Last month, the university opened an internal investigation into claims made by three former players --
identified by the Daily Illini
as Jacqui Grant, Taylor Tuck, and Taylor Gleason. According to the report, the three wrote letters to the office of Chancellor Phyllis Wise, claiming mistreatment. mishandling of injuries, and racist remarks.
The report claims, "the letters highlighted that Bollant and Divilbiss threatened to pull players' scholarships, attempted to create division in the team using racism and ignored or minimized injuries.
"
Monday morning, the athletic department announced the promotion of LaKale Malone to associate head coach, replacing Divilbiss, who held the position under Bollant since he started at Illinois in 2012.
Further details of Divilbiss' departure weren't released.
The full statement from the university's public affairs office is below.
"In late April, the Director of Athletics requested that the Chancellor's Office inquire into concerns by the parents of three women's basketball players. The Chancellor initially charged the Office of Diversity, Equity and Access (ODEA) and Academic Human Resources (AHR) to evaluate the concerns. The preliminary findings of ODEA and AHR indicated no violation of applicable law or University policy had occurred. The inquiry process included the review of numerous documents, information related to current and past seasons, and interviews of more than 20 individuals currently or formerly affiliated with the Women's Basketball program.
In addition, DIA compliance staff reviewed information provided by parents and others. Based on the information provided, the compliance staff concluded that no NCAA violations have occurred.
As reported, one player has raised concerns related to medical treatment she received. The University continues to evaluate these concerns.
After further review, including the current goals and objectives of DIA and the women's basketball program, the University and Coach Mike Divilbiss have agreed to part ways."
All three players have since left the program. Tuck graduated this spring, while Gleason and Grant both sought transfers. Grant will play basketball at DePaul, and Gleason chose to move closer to home, to Oakland University in Rochester, Michigan.
WAND sought further comment from chancellor's office spokeswoman Robin Kaler and Kaamilyah Abdullah-Span, who conducted the review through the ODEA, but calls were not as yet returned.