This is why dozens of rescue workers were dispatched to a Decatur hospital
Posted: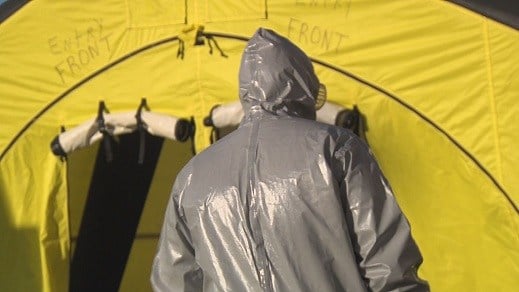 DECATUR - Preparing for biohazards can be tough! Managing them when they happen is tougher! But, Macon County emergency officials wants to make sure it can handle anything. They proved it, Monday, at St. Mary's Hospital. That's Decatur police, firemen, and other rescue workers held a disaster drill.
"They say they've got a tanker with hazardous material that turned over next to a park and we've got several children and kids involved," said Decatur fireman Dan Kline, explaining the premise of the drill.
Monday's exercise focused on decontamination. Boy Scouts acted as patients who came in contact with a hazardous chemical.
"We're dealing with chemicals that would need to be washed off the skin, rinsed off of a patient, remove their clothing," said St. Mary's emergency coordinator, Bill Wood.
"Not all chemicals are treated the same," he said. "Some chemicals, if you add water to them, makes them more volatile and we can't have that. You have to understand the chemical you're dealing with. We may go through and realize that after today's operation, there may be something we could improve on."
History shows that Decatur is no stranger to this type of disaster.
"A few years back, we had an industrial accident and the departments had to come in here in February, 5 degree weather, and set up," said Wood. "So by having this exercise now, during the daylight where they can see everything and work with each other helps with the interaction between departments."
There will be another drill at Decatur Memorial Hospital on June 23. It'll be a slightly different scenario, so rescue workers can cover all their bases.