Illini Rake in Big Ten Baseball Honors
Posted: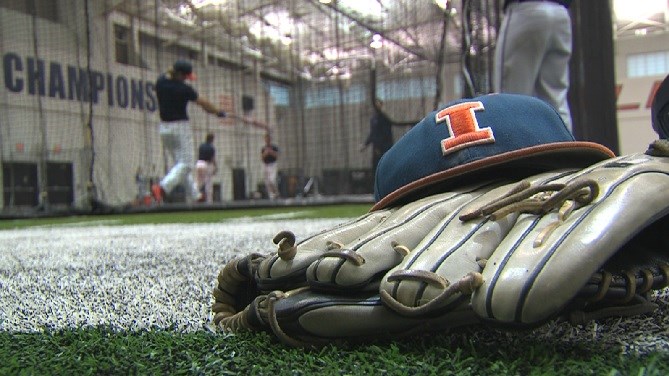 ROSEMONT, Ill. -- On the eve of the Big Ten Tournament, top-seeded Illinois took home the most hardware on Big Ten awards lists.
Illinois first baseman David Kerian took home Player of the Year honors, teammate Tyler Jay was named Pitcher of the Year, and to round out the "big three", Dan Hartleb was named Coach of the Year. The Illini finished the regular season with a program-best 45-6-1 record, and is still riding the nation's longest winning streak in 2015 -- 26 games.
Kerian becomes the ninth Illinois standout to claim Big Ten Player of the Year honors, and the first since Justin Parr in 2013. Kerian currently leads the Big Ten in batting average (.383), home runs (13), slugging percentage (.661) and on-base percentage (.467). As Illinois' starting first baseman, Kerian also paced the Big Ten in putouts (227) during conference play.
Jay becomes the fourth Illinois hurler to earn Big Ten Pitcher of the Year accolades, and the first since Andy Dickinson in 2001. The Illini's left-handed closer currently leads the Big Ten in earned run average (0.67) and opponents' batting average (.161), while ranking second in saves with 12. In 26 appearances, he has finished 24 games for Illinois this season. Entering the postseason, Jay has tallied 62 strikeouts against just six walks.
Hartleb becomes the second Illinois mentor to earn Big Ten Coach of the Year honors. Richard "Itch" Jones was named the Coach of the Year in 1998 and 2005. Hartleb guided Illinois to its 30th Big Ten Championship this season, the Illini's first outright title since 2005. Illinois enters the Big Ten Tournament on a school-record 26-game winning streak, the longest streak in the nation this season.
The Big Ten also announced the Sportsmanship Award honorees from each institution. The student-athletes chosen are individuals who have distinguished themselves through sportsmanship and ethical behavior. These student-athletes must also be in good academic standing and have demonstrated good citizenship outside of the sports-competition setting.
The complete list of All-Big Ten teams and award winners can be found below.
ALL-BIG TEN FIRST TEAM
C – Jason Goldstein, ILL
1B – David Kerian, ILL
2B – Brandon Lowe, MD
SS – Adam Walton, ILL
3B – Mark Weist, MSU
OF – Casey Fletcher, ILL
OF – Jackson Glines, MICH
OF – Pat Porter, OSU
DH – CARMEN BENEDETTI, MICH
SP – KEVIN DUCHENE, ILL
SP – Blake Hickman, IOWA
SP – MIKE SHAWARYN, MD
RP – TYLER JAY, ILL
ALL-BIG TEN SECOND TEAM
C – Tanner Lubach, NEB
1B – Ryan Krill, MSU
2B – Jacob Cronenworth, MICH
SS – Michael Handel, MINN
3B – Jose Cuas, MD
OF – Eric Toole, IOWA
OF – Ryan Boldt, NEB
OF – Troy Montgomery, OSU
DH – Scott Donley, IND
SP – Drasen Johnson, ILL
SP – Calvin Mathews, IOWA
SP – Chance Sinclair, NEB
RP – Nick Hibbing, IOWA
ALL-BIG TEN THIRD TEAM
C – Kevin Martir, MD
1B – Tyler Peyton, IOWA
2B – Reid Roper, ILL
SS – Nick Roscetti, IOWA
3B – Travis Maezes, MICH
OF – Ryan Nagle, ILL
OF – Craig Dedelow, IND
OF – Tom Marcinczyk, RU
DH – Pat McInerney, ILL
SP – John Kravetz, ILL
SP – Brett Adcock, MICH
SP – Ryan Riga, OSU
RP – Josh Roeder, NEB
ALL-BIG TEN FRESHMAN TEAM*
C – Chad Roskelly, MSU
1B – SCOTT SCHREIBER, NEB
2B – Grant Peikert, NU
SS – Jake Bivens, MICH
3B – Isaiah Pasteur, IND
OF – Logan Sowers, IND
OF – Brandon Hughes, MSU
OF – Luis Alvarado, NEB
DH – Drew Lugbauer, MICH
SP – Ryan Nutof, MICH
SP – Andrew Gonzalez, MSU
SP – Garett King, NEB
SP – Adam Niemeyer, OSU
RP – Bryan Pall, MICH
SPORTSMANSHIP AWARD HONOREES
Will Krug, Illinois
Will Nolden, Indiana
Kris Goodman, Iowa
Robert Galligan, Maryland
Eric Jacobson, Michigan
Ryan Krill, Michigan State
Lance Thonvold, Minnesota
Blake Headley, Nebraska
Cody Stevens, Northwestern
Pat Porter, Ohio State
James Coates, Penn State
Joe Eichmann, Purdue
Joe D'Annunzio, Rutgers
PLAYER OF THE YEAR
David Kerian, ILL
PITCHER OF THE YEAR
Tyler Jay, ILL
FRESHMAN OF THE YEAR
Jake Bivens, MICH
COACH OF THE YEAR
Dan Hartleb, ILL
Unanimous honorees in ALL CAPS
*additional honoree due to tie