Decatur house renovation gets set back by fire
Posted: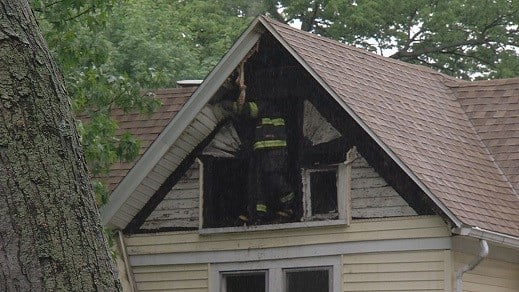 DECATUR - Firefighters responded at 2:22pm.
"I originally came down Edward over there and I had to go around to get back through here," said Orlando, neighbor who lives across the street from the home that caught on fire on corner of North Edward St. and West Olive in Decatur.
"Looked like all the fire was in the attic," said Battalion Chief Dan Kline after spending an hour getting the flames contained.
Firemen were forced to break windows to reach the source, damaging the home which was being remodeled.
"There has been some remodeling going on," said Chief Kline. "They've been putting in some new light fixtures and such, really trying to clean the place up."
No one lives in the home now, but one neighbor met the woman who was renovating it with plans to move in.
"I talked to some lady that came by the other day," she said. "She was in there cleaning and she said that they were moving in, but they had never moved any stuff or anything and a lot of construction workers have been over there."
Chief Kline says this neighborhood is familiar with fires.
"Over the years, there have been quite a few fires in this area."
It adds to the neighborhood's less-than-perfect reputation.
"Not only is it one less house, you know, this is a neighborhood that a lot of people are like, oh that's a bad neighborhood don't go over there," said one neighbor.
Chief Kline says the incident is unfortunate because this renovation could have helped change the overall appearance of the block.
"The houses could use a little upkeep, and in this case, they were trying to renovate the place," he said.
The cause of the fire is still under investigation.
The structure is not in danger of collapsing. No one was hurt.