Familiar Names on Qualifying Lists at IHSA 1A Girls Track & Field Prelims
Posted: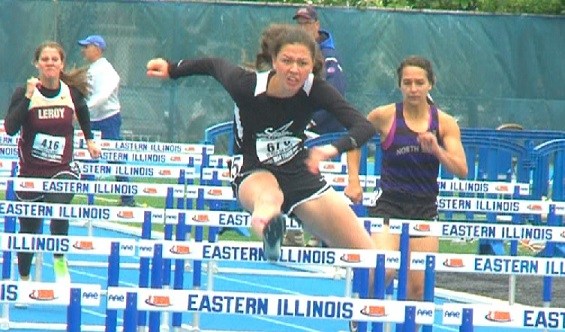 1A PRELIMINARY RESULTS

CHARLESTON -- Preliminary events wrapped up Thursday in the 1A state girls track and field state championship.

Familiar names will once again be in contention on championship Saturday, including Warrensburg-Latham's KD Young. The sophomore thrower, who won state titles in both the discus and shot put as a freshman, dominated both events in the qualifiers.

Young's discus throw (143-11) and shot put (47-00.75) comfortably lead the field, as the sophomore looks to be a four-time state champ by the weekend.

Sullivan-Okaw Valley's Amanda McClain was back to her old ways, qualifying in the long jump, 200m dash, 400m dash, and ran the anchor leg of SOV's qualifying 4x200 relay team. McClain is the reigning 400m champion, while SOV's 4x200 team will also look to repeat in the event.

Other defending champions looking to repeat include Salt Fork hurdler Jenny Kimbro. Kimbro had the top times in both the 100m (:14.55) and 300m (:43.06), with both marks besting her 2014 state championship times. She'll also be competing Saturday in the long jump and 200m dash.

St. Anthony's Anna Sophia Keller is in line for a repeat of 2014 in the 1600m. She also upped the ante from her 2014 championship in the event, as the only runner to finish in less than 5 minutes (4:59.76).

Full results from the 1A prelim can be found here.

2A and 3A preliminary events begin Friday morning at Eastern Illinois University.