Shaffer, Terps Solve the Riddle, End Illinois' 27-Game Winning Streak
Posted: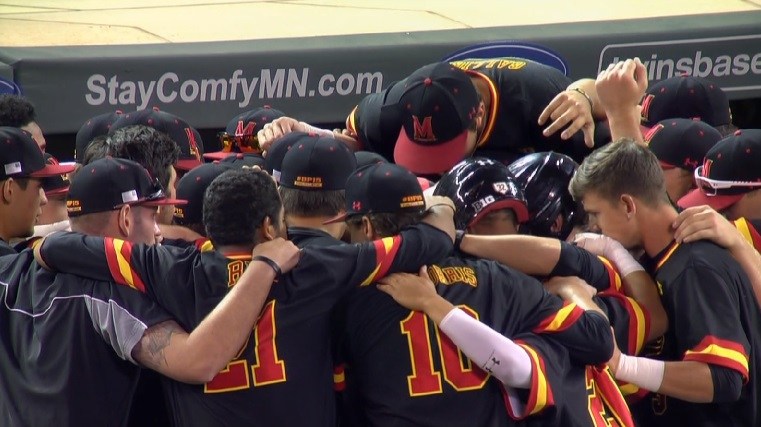 BOX SCORE
By Matt Loveless
MINNEAPOLIS -- In a Big Ten record 27-game winning streak, the Illinois baseball team won games in which they allowed 9, 10, and 13 runs.
As Thursday night turned into Friday morning, the Fighting Illini (46-7-1) saw that streak slip away thanks to two 2nd-inning runs - both unearned - in a 2-1 loss to Maryland in the second round of the Big Ten Tournament.
It was an odd off-night for an Illinois offense that came into the game hitting .300 as a team. Normally strong top-to-bottom, Illinois' 6-9 hitters -- which includes Big Ten Player of the Year David Kerian -- went 1-for-14 (0.71), as Illinois struggled to get comfortable against what was, at times, an inconsistent strike zone.
Early, it looked like business as usual for Illinois, who were on the board first, thanks to an RBI single by Jason Goldstein in the bottom of the first.
Maryland followed by taking advantage of a sloppy defense frame from Illinois, scoring two unearned runs, thanks to a pair of throw errors.
The Terps never let Illinois get close again. Terrapin starter Brian Shaffer spread 6 hits over 7 innings, as Illinois didn't put a baserunner past first base from the third inning on.
Illinois starter Drasen Johnson escaped trouble a number of times throughout the game, but finished with a strong stat line: 7.2 IP, 7 H, 0 ER, 7 Ks.
Illinois now enters the consolation bracket of the double-elimination tournament. They'll face Michigan State Friday at 7:30pm CT.
Before the winning streak, the Spartans were the last to beat Illinois -- a 5-2 game on March 29.