Dozens celebrate Memorial Day weekend in Decatur
Posted: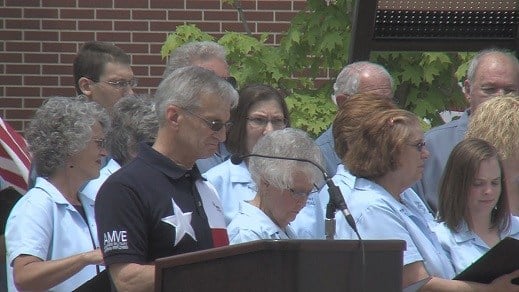 DECATUR - Tune after tune, the band played on. The choir sang with gratitude for their freedom. Dozens of veterans and their allies listened with pride at Ameren Illinois' Memorial Day ceremony in Decatur's Central Park on Sunday. The ceremony honored the sacrifices of veterans who are no longer with us, however, the ones that are still here tell WAND News, they are noticing a trend. There aren't nearly as many people at events like this as there used to be. Many believe respect for veterans is declining.

"I would say there was a lot more respect 50, 60 years ago than now," said Lee Parks, a Korean War Veteran.

His friend Martin Waddell, a former member of the U.S. Air Force agreed.

"In the past, especially during wartime and stuff, when you come home from something like that, you actually feel like you actually accomplished something."

Some blame the absence of the draft, claiming that, because American Citizens aren't forced into war, less people have family members that serve.

"They like to turn a blind eye to it," said Waddell. "As long as it's not happening to me, why should I worry about it."

Lee believes the ever-growing entertainment industry is distracting young Americans from the reality of war.

"There are some people who think there aren't any bad guys, everybody's good and everybody has a good heart," he said. "It don't work that way in this world. The thing is that there are some things worth fighting for, and you have to do it. You can't just let it go and let it blow away. It don't go away."

The ceremony included a moment of silence for prisoners of war and those missing in action.