Dozens rally for peace after Decatur homicide
Posted: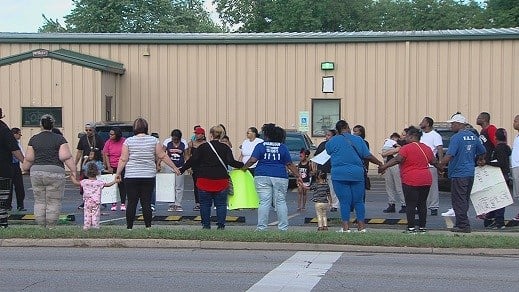 DECATUR - Dozens are mourning the death of 28 year old Mishari Halbrook of Decatur. He was gunned down early Monday at Club Maxey, a popular nightclub in Decatur's inner city. The Halbrook family and dozens of others rallied for peace, Tuesday, outside of the nightclub. The purpose was to initiate a new push for unity among the men and women of Decatur's inner city and Central Illinois as a whole. Mishari's dad, Evanelle, led the rally.
"My son wasn't a trouble maker," he said Tuesday. "He helped a lot of people."
Mishari's aunt, Melanie, never thought her nephew would die from gun violence.
"The violence needs to stop," she said at the rally.
Community activist and local radio host, Crystal Cleere, says it starts with accountability.
"We live here. It takes us. Nobody's coming to save us. Yes we can pray, but we need action as well. Are we just going to be Facebook activists or are we going to get together, set aside a plan, worry about these babies, these young men, these young women and try to effectively make a change."
It's a change she says is only possible if residents start lifting each other up instead of harboring conflict.
"We don't have a community here in Decatur, she said. "We could call it a community, but a community is where you know your neighbor, when you can call on them, when they're concerned and worried about you and we don't have that."
Mishari may be gone in the flesh, but his loved ones believe his impact will keep his spirit alive. Police have arrested 18-year-old Javon Barber from Joliet for the fatal shooting. He is being held in the Macon County Jail awaiting formal charges.