Tyler Jay Talks Relief Role, MLB Draft Projections Ahead of NCAA Regionals
Posted: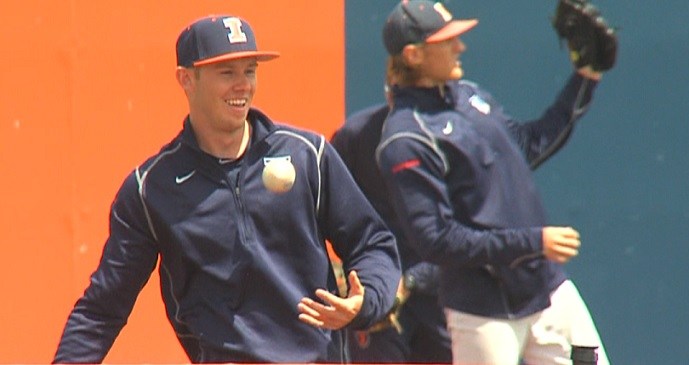 By Matt Loveless
CHAMPAIGN -- Some consider him the best starting pitching prospect in the country, yet he doesn't start.
LHP Tyler Jay
(5-1, 0.64 ERA, 13 saves) headlines a staff that includes another Big Ten 1st team selection (
Kevin Duchen
e: 10-1, 1.30 ERA) and ranks 4th in the country with an overall team ERA of 2.46.
"Tyler's one of the best pitchers in the country," said Illinois head coach Dan Hartleb.
Illinois (47-8-1) is preparing to host its first-ever NCAA regional. As you might expect, the coach of a team that went on a 27-game winning streak late in the season doesn't want to change what's been working.
"We'll do whatever it takes to win games without hurting anybody," said Hartleb, who added they'll head into their regional with the same plan, when it comes to their starting rotation, they took into each weekend Big Ten series during the 2015 regular season.
That would mean Jay, regarded by many scouts as one of the nation's top few pitchers, would remain in the bullpen barring a need for a start late in the tournament.
It's a formula that's worked so far this year. Jay has 13 saves, his 0.64 ERA currently ranks 2nd in the nation, and his 0.62 WHIP ranks 1st.
ESPN's Keith Law,
in a seemingly inconspicuous online chat
, made some remarks on the topic that are now infamous in Champaign-Urbana.
Law, in response to a general question about Jay, praised the lefty but added, "The Illinois coach appears to be severely confused about how to win baseball games," blasting Hartleb's decision to put Jay in the bullpen. "It's the single stupidest move I've seen any coach enact with a draft-eligible player this spring."
It was -- at the very least -- a poor choice of words, since Illinois was in the midst of the nation's longest winning streak at the time.
While the vitriol behind Law's comments were over the top, his viewpoint is shared by others in the baseball scouting community.
Jay projects as a starter in his pro career, but has made just one start out of 69 career appearances at Illinois.
Hartleb has since defended the decision a number of times, saying he wants his most versatile pitcher in the closer role.
"Number one, you have to be able to pitch back to back days, and some guys' arms don't respond. His does," said Hartleb. "He and I talked about it before the season. He's doing whatever it takes for this team to be successful."
"I know people want to see me start, but it is what it is. I like doing both," said Jay, whose 23 saves are tied for the most in an Illinois career. He also isn't lacking time on the mound. He leads the team in appearances (28) and his 56 1/3 innings are fifth on the team.
If the concern is over Illinois' ability to win games, or Jay's stock as an MLB draft prospect, his stay in the bullpen hasn't hurt either.
While Law considered Jay a late first-round pick, most projections have him in the top of the first round, and some as the first pitcher off the board.
MLB.com'
s
Jim Callis projects
Jay as the third overall pick to the Rockies.
Baseball America's
John Manual thinks
he'll be the number one overall pick to the Diamondbacks.
"It's cool," said Jay. "You just want to get drafted when you're playing in high school, and then to go be considered so high is just so incredible."
The hype hasn't affected Jay, nor have the number of scouts that show up to Illinois Field hoping to catch one of his relief appearances.
"It's been picking up a little bit towards the last couple weeks or so, but it's honestly not a big deal," said Jay.
"He seriously doesn't care," said Hartleb. "If it's a runner on third and a one run lead in the ninth inning, he wants the ball."
That seems to be the best case for Jay as a closer -- the mentality.
Notre Dame, Ohio University, and Wright State will come to Champaign this weekend hoping to knock out the nation's 6-seed to advance to a super-regional.
Ohio will have to try and get to Duchene on Friday, and whichever team follows will likely face
Drasen Johnson
(9-3, 2.17 ERA) Saturday. If the rotation holds,
John Kravetz
(5-0, 3.32 ERA) is next. In Kravetz's last outing, he threw a 6-hit complete-game shutout against Michigan in the Big Ten Tournament.
A tall order in and of itself, the reward for bumping any of those three off the mound is facing Jay in the late innings. Therein lies Hartleb's reasoning: Why have Jay start against one, when he can (potentially) finish off all three?
That sounds just fine for a guy who, at the moment, says he feels untouchable.
"You always feel like that on the mound, to be honest," said Jay. "If you have that mentality, you always go out there and think 'I'm not going to give up hits.'"
The Fighting Illini face the Bobcats at 7pm Friday at Illinois Field. Tournament and ticket information can be found
here
.