Macon County Sheriff's Office taking steps to reduce drug overdoses
Posted: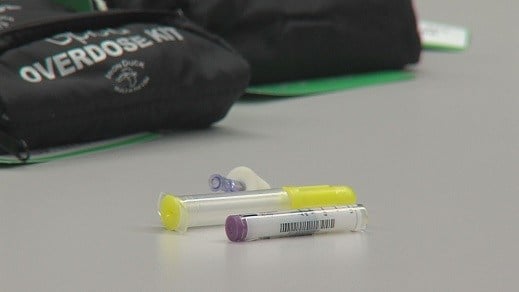 DECATUR - Drug overdoses usually kill by stopping the flow of oxygen in the body. That's why law enforcement agencies are getting a hold of a medicine called Naloxone. It can breathe you back to life in seconds. Statistics show that heroine overdoses are on the rise. With each death, Michael Burkham grows hungrier to make a difference.
"There's been 50,000 opium overdose deaths in the country in the last year," said Burkham on Wednesday as he introduced Naloxone to the Macon County Sheriff's office.
As a Decatur-based paramedic, he's seen the rise of drug overdoses here in Central Illinois.
"I can tell you as a paramedic working for the ambulance service, that we have seen an upward trend in heroin overdoses, street heroin, and we use Naloxone on a daily basis."
"It's a wonderful tool that we can put into our squad cars to help somebody, you know, would be in an overdose state," said Lt. Jeff Scheibly.
Deputies and correction officers underwent training Wednesday afternoon on how to properly administer the medicine. It's a nasal spray that keeps you breathing during a drug overdose.
"Out in the rural parts of the county, you know, where a lot of times, we're as first responders before Decatur ambulance or any emergency responders," said Scheibly.
The sheriff's office is the fifth agency in Macon County to obtain the drug. Following in the footsteps of Millikin Police, Mt. Zion Police, Decatur Fire, and Decatur Ambulance. Springfield firefighters have administered the drug 19 times this year.
"We're just very blessed they were able to bring that program to us and help us get started so we can better serve our community," said Scheibly.
The nasal spray combats overdoses from Vicodin, OxyContin, Methadone, Morphine, Heroin, and Fentanyl. They all contain opium. The corrections division has 4 Naloxone kits to keep in the Macon County jail. Deputies will share 21 kits.