Illini Fired Up for Super Regional Matchup Against Vanderbilt
Posted: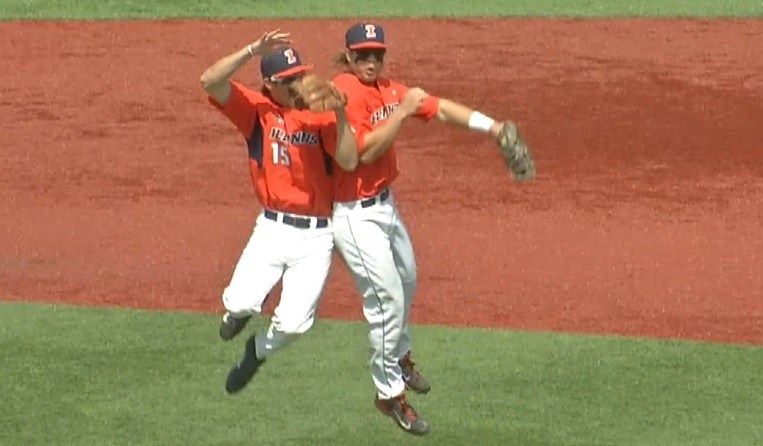 By Matt Loveless
CHAMPAIGN -- The biggest weekend in Illinois Field history was only a precursor to the biggest weekend in Illinois Field history.
The Illini (50-8-1) will play their first Super Regional series starting Saturday.
The reward for winning their first-ever regional title: Hosting the defending national champion Vanderbilt Commodores.
"(We're) just excited to get out there and play them," said SS
Adam Walton
. "They are the national reigning champions, so any time they come to your home field it is an exciting time."
Vanderbilt steamrolled their way to a regional title, winning their clinching game 21-0 over Radford Monday, a team that was ranked 18th in the country by
d1baseball.com
.
"It's a great program," said Illinois head coach Dan Hartleb. "One of the top teams in college baseball and the great part about that is we both have our hands full. They are going to be a very good team and they are playing a very good team that is one of the top teams in college baseball as well, so it should be a great weekend of baseball."
The last meeting between Illinois and Vanderbilt was in a 2013 NCAA regional. The Illini took a 4-2 lead in the 5th inning, but couldn't break through against then-freshman
Carson Fulmer
in his 5 innings of scoreless relief. The Commodores scored eight unanswered to get the 10-4 win.
Ten current Illini played in that game, and remember it well.
"We're looking for payback," said senior slugger
David Kerian
, who said they also relish the opportunity to knock them out of the tournament.
Fulmer, who made 26 relief appearances in an All-SEC Freshman season in 2013, has grown into one of the top arms in all of college baseball. Tuesday, he was named one of four Golden Spikes Award finalists (along with teammate
Dansby Swanson
), and is generally regarded as one of the top few pitchers in the upcoming MLB Draft.
He'll be on display Saturday, taking the mound in game one of the Super Regional.
Few in Champaign have as much insight into Fulmer (12-2, 1.92 ERA) as one of the pitchers in the opposing bullpen. Illinois junior lefty
Tyler Jay
, also regarded as one of the top pitching prospects in the country, was a teammate of Fulmer's on the USA Collegiate National Team over the summer.
"I know they are a competitive team, I know what kind of attitude they bring," said Jay. "I know they're a good squad. You know you don't make it to the supers if you're not."
The Commodores may have the nation's most talented team. Swanson and Vanderbilt outfielder Bryan Reynolds were also on the national team. In addition to Fulmer and Swanson, RHP
Walker Buehler
(4-2, 2.97 ERA) is largely considered a first round MLB prospect.
If the series goes three games, a handful of potential first-rounders, which includes Jay, could be playing on the day they're drafted.
It's a big reason why many consider the matchup one of the most anticipated of the eight Super Regionals.
The Illini, of course, won't disagree.
"They're a competitive team, we're a really competitive team, it's going to be a great thing to watch," said Jay.
"We're expecting some great crowds again," added Walton, alluding to the fact that tickets sold out within about 20 minutes on Tuesday morning.
"Were just excited to play again, and for a trip to Omaha."
The series begins Saturday, with a first pitch scheduled for 7pm CT. Game two starts at 8pm on Sunday.
If necessary, game three will be held Monday.