Celebrating Cancer Survivors
Posted: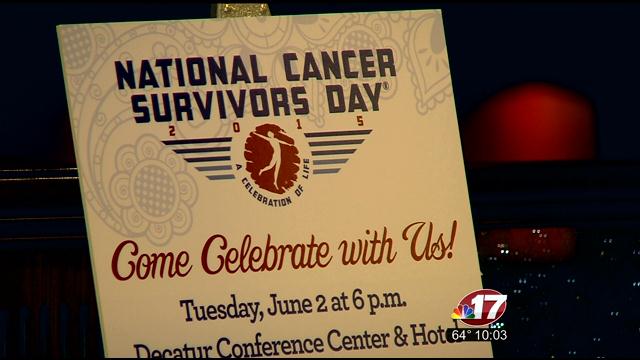 DECATUR - In the Holiday Hall at the Decatur Conference Center and Hotel about 1200 people were in attendance at the annual National Cancer Survivors Day celebration. Every cancer survivor had a unique story to tell.

WAND's Brigette Burnett heard stories of triumph from Jim Larson, Nancy Callahan and Yolanda Blackwell.

Blackwell is a strong Navy woman who had a mammogram that came back positive for breast cancer.

After having a double mastectomy, Blackwell said, "I chose not to go through radiation and chemo. The doctors told me it will return probably 75-percent within five years. It's been almost nine years and still hasn't come back."

She reminisced at the event back to the day she received the devastating news.

"Even though I knew it was cancer, I was still stunned when they said the words 'you have cancer' and it takes a while so if you think you've got cancer take someone with you to your doctor's appointments because they can ask the questions that you can't think of at that point in time," Blackwell added.

For Callahan, on the last day of radiation she lost her husband. However, as she lost one she gained another, her sister.

"If I didn't have her, I didn't have nobody," Callahan said. "I lived with her and then she got breast cancer, so we both took care of each other."

Jim Larson said he was diagnosed with prostate cancer in March of 2006 and since then it's been in remission and he's doing fine.

Larson is thankful for the annual event for helping him make it through.

"The first time I came here, when I left I had a much better feeling about cancer and cancer survivors. They are very encouraging and offer a lot of hope," Larson told WAND.

The event is co-sponsored by Cancer Care Specialists of Central Illinois, Decatur Memorial Hospital and HSHS St. Mary's Hospital.