1A State Preview: As the Moments Get Bigger, the Okaw Valley Baseball Team Remaining Steady
Posted: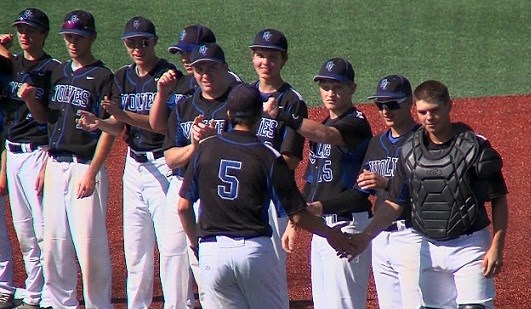 By Matt Loveless
BETHANY -- You'd never know this was uncharted territory for the Okaw Valley baseball team.
Following a walk-off win against Princeville on Tuesday, the Timberwolves are getting set for the program's first-ever state tournament appearance.
In fact, prior to these playoffs, the program had never won a sectional title -- or even a sectional game.
At one point Tuesday, it appeared their lack of experience would catch up to them, as it often does late in the playoffs. A couple of late errors helped Princeville erase a 4-run deficit to tie the game in the 7th. The Timberwolves faced the thought of extra-innings, without momentum, at Illinois Field - which will host an NCAA Super Regional this weekend.
The moment was big. Just not too big.
"We stormed into the dugout and said, hey, we're not going to lose this game. We're going to get a run here," said senior Peyton Hagerman. "We're not going to jack Devon (Still)'s pitch count any higher than it is. We're going to get this game. We're going to state."
Still, who had pitched the previous seven innings for Okaw Valley, came up with the bases loaded and no outs.
"I didn't do the hard part. The hard part cam from the three people in front of me who got on base," said Still, whose base hit over the center fielder's head brought home Hagerman for the walk-off, 6-5 win.
"Most teams usually fall and choke there, but we stayed together," said freshman catcher Garrett Fritz.
In high school athletics, where the psyches of the student-athletes can be fragile, a freshman is able to provide that perspective. Head coach Andrew Hagerman said that's what has set this team apart.
"They don't get nervous, they don't get shaky," said Hagerman. "They get poised."
Their upcoming trip to Dozer Park in Peoria is also thanks to some talent - namely with the leadership of their top two pitchers: Still and Peyton Hagerman.
"Me and Devon have been shutting teams down since we were 8 and 9 years old," said Hagerman, but he was aware of what had been holding them back.
"Last year, we had to bunt to get a run every single game, it seemed like," said Hagerman.
It was an exaggeration, but not much of one.
"We're not a big hitting team," Andrew Hagerman added. "We play a lot of small ball. We play the old-fashioned way, I guess you'd call it."
Tuesday, on a day when the fundamentals eluded them late, the Timberwolves traded "old-fashioned" for "clutch". Now they're two wins away from another program first.
"We don't try to overthink things," said senior Joe Jeffers, who knocked in a pair of runs Tuesday. "We just play baseball. It's a game, we're supposed to have fun. That's what we try to treat it like."
Okaw Valley will play in the second semifinal in the 1A bracket, a noon first pitch against Okawville in the state semifinals.