Okaw Valley Falls to Fulton, Finishes 4th at State
Posted: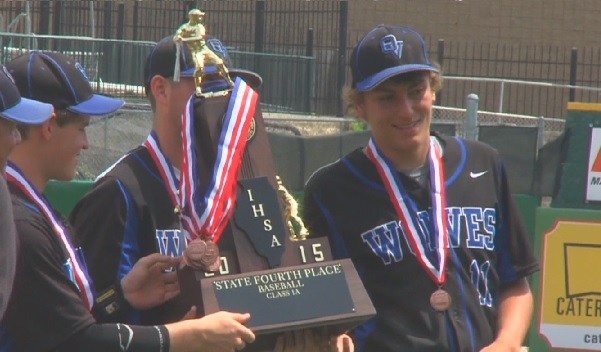 By Matt Loveless
PEORIA -- Before leaving for Peoria, Okaw Valley baseball coach Andrew Hagerman reminded his players to be proud of what they'd already accomplished.
They knew they would come home from Dozer Park with the program's first state trophy. That didn't, however, make their 11-7 loss to Fulton -- and 4th place finish -- any easier.
"It hurt to come here and lose them both. Yesterday was a back breaker," said Hagerman, whose Timberwolves finish the year 26-8.
Despite scoring seven runs, the Timberwolves managed just five hits off of three Fulton pitchers. Dylan Park was 2-for-3 with 3 RBIs, including a 2-run single in the first inning.
The Timberwolves took 3-0 lead in the top half of the first, only to see that slip away after a 4-run first by Fulton.
Okaw Valley took the lead back with a 3-run third, but a swift 5-run inning by the Steamers seemed like it finally did the Timberwolves in.
"Today, quite honestly, we just ran out of pitching," said Hagerman.
Devon Still, who got the win - and the walk-off base hit - in Tuesday's Super Sectional, managed to pitch just 2/3 of an inning, allowing four runs on four hits and two walks.
Fulton's 2-5 hitters were a combined 8-for-14 (.571) with 6 RBIs and 8 runs scored.
As the Timberwolves accepted their 4th place trophy, there were more smiles than you might expect from a team that lost two games at state.
That's because it didn't take long for the perspective to set in.
"What a special time," said Hagerman, "how the town supported us. You know, fan buses coming up here and all that. It was just the last three weeks has just been a thrill ride these guys."
"I just feel so blessed getting to be able to play the game I love with my best friends one last time and getting to represent my community in a really big bright stage," senior Peyton Hagerman.
Prior to this season, the Okaw Valley baseball program (including Bethany H.S. and Findlay H.S.) had never won a sectional game, advancing past regionals just three times (1985, 1995, & 2009).