Program-Best Nine Illini Selected in MLB Draft
Posted: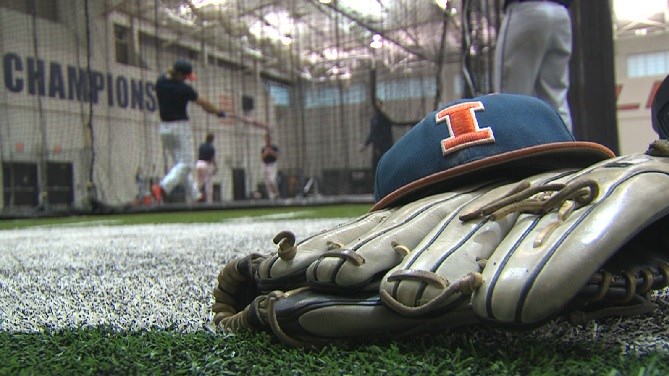 By Matt Loveless
CHAMPAIGN -- The Illinois baseball made program history in a lot of categories in the 2015 season, and now you can add the MLB Draft to the list.
A total of nine Illini were taken in the 40 rounds of the Major League Baseball amateur draft, besting the previous high of six set in 1985.
All nine of those picks, in fact, came in the first 27 rounds, as Illinois had six players drafted on day three (rounds 11-40).
Catcher Jason Goldstein (17th round) went early, and a number of players followed, including SS Adam Walton (20th), RHP Nick Blackburn (22nd), LHP Rob McDonnell (25th), RHP Drasen Johnson (26th), and LF Ryan Nagle (27th).
Monday, LHP Tyler Jay became the top pick in Illinois history, going 6th overall to the Minnesota Twins in the first round. On Tuesday, LHP Kevin Duchene was taken in the 5th round by the Oakland Athletics, and 1B David Kerian followed, going in the 9th round to the Washington Nationals.
In addition, a trio of Illinois recruits were taken by MLB teams. Luke Schilling was taken in the 20th round by the Texas Rangers out of Notre Dame Prep (MI), and Brenden Spillane (Wheeling HS) was taken in the 34th by the Pirates. Simeon 3B Jalin McMillan was taken in the 39th round by the White Sox.
Six of Illinois' drafted players are underclassmen. Those six, along with the three recruits, have until July 15 to either sign with their pro franchises, or continue their careers in college.
ILLINI SELECTED IN THE 2015 MLB DRAFT
| | | | |
| --- | --- | --- | --- |
| POS. | NAME | ROUND | TEAM |
| LHP | TYLER JAY | 1ST | MIN |
| LHP | KEVIN DUCHENE | 5TH | OAK |
| 1B | DAVID KERIAN | 9TH | WAS |
| C | JASON GOLDSTEIN | 17TH | LAD |
| SS | ADAM WALTON | 20TH | BAL |
| RHP | NICK BLACKBURN | 22ND | NYM |
| LHP | ROB MCDONNELL | 25TH | LAD |
| RHP | DRASEN JOHNSON | 26TH | COL |
| LF | RYAN NAGLE | 27TH | PIT |
| ILLINOIS RECRUITS | | | |
| RHP | LUKE SCHILLING | 20TH | TEX |
| 3B | BRENDEN SPILLANE | 34TH | PIT |
| 3B | JALIN MCMILLAN | 39TH | CWS |