Rauner's visit to Decatur becomes confrontational
Posted: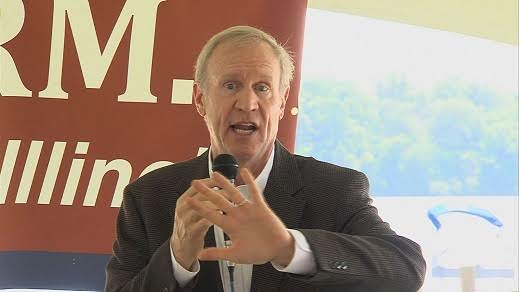 DECATUR - A calm speech led to a heated debate Wednesday when Governor Rauner visited Decatur.
His goal was to gain support for what he calls a
"Turn Around" campaign. He addressed the people of Decatur on how he plans to recover the state from its financial distress and how they can help.
Rauner wants the public to call lawmakers and urge them to compromise with him, but some people attended the event to question him about recent social program cuts.
Decatur resident Annie Yarbary was one of them.
She's a worried mother in fear of the future.
"I'm here because in two to three weeks, July 1 will be here," she said speaking directly to the Governor. "You have big cuts proposed on the table."
About 30 minutes before, the Governor addressed what looked like a supportive crowd, ready to listen to his ideas.
"This community is suffering from the bad policies that have been coming out of Springfield," Rauner told his audience.
If lawmakers can't agree on a budget by July first only more suffering will come. More social services and programs may have to stop operating.
"I've asked for five things," he said. "Five things that can actually change our trajectory and have long-term balanced budgets and a growing economy and value for taxpayers with five things."
Rauner has proposed five reforms he wants lawmakers to agree upon before he will sign a budget. They are: term limits for state politicians, a restructuring of election districts, more local control of property taxes, worker's compensation reform, and tort reform.
"These are the five things we've asked. We've taken everything else off the table," he said.
But not everyone agreed that those were the only solutions.
"We have a revenue problem, and you know, what would be wrong with you saying we need to have taxes increase," said Yarbary, again, addressing the Governor, face to face. "It almost seems to me there's no way around it other than you saying that you want to cut vital services."
Rauner says those cuts were necessary because of over-spending from prior administrations. He's pointing the finger at Senate President John Cullerton and House Speaker Michael Madigan for encouraging lawmakers to rebut these reforms.
We're negotiating on them," said Rauner. "We're willing to compromise. We have been willing to compromise. Unfortunately, coming from Madigan and Cullerton so far, we've seen zero. So, we just got to stay at it."
He met with Cullerton Tuesday, but they did not reach an agreement.