Kang's 8-Under Leads Field After Incomplete 1st Round at the Decatur Forsyth Classic
Posted: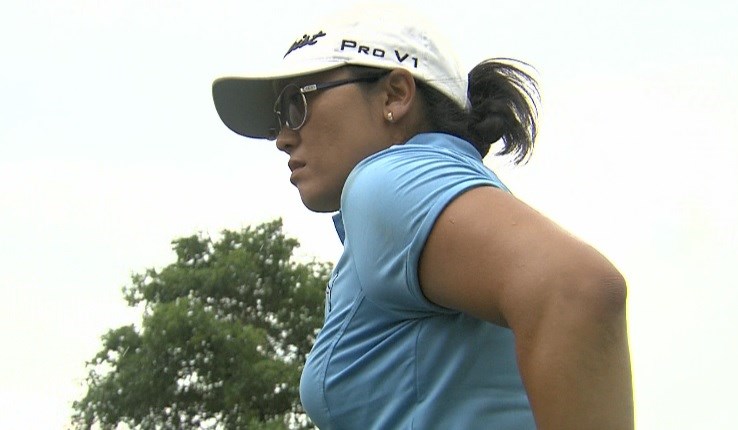 DECATUR (via Symetra Tour) - Jimin Kang (Seoul, South Korea) birdied six holes in a row to start her round and carded an 8-under 64 to grab the first-round lead at the Decatur-Forsyth Classic as play suspended. The entire morning wave finished play and the first groups of the second wave completed their rounds. There are still 22 groups comprised of 66 players that will complete round one on Saturday.

The first-round will resume on Saturday at 7:30 a.m. while second-round play will begin at 8:10 a.m.

Weather was a major factor on Friday. Play was suspended for 29-minutes in the morning and then for two hours and 37 minutes in the early afternoon. Play was suspended at 7:44 p.m. for a third time due to lightning in the area and players never returned to the course as darkness was approaching.

After opening her round with six consecutive birdies, Kang made a par on the seventh, a birdie on the eighth and a par on the ninth hole to make the turn at 7-under 29. She is the first player to post a sub-30 score through nine holes since 2011 when Jean Chua carded a 29 in Albany at Capital Hills.

Believe it or not, it wasn't the best nine-hole stretch of her career. In 2005, she posted a 27 on the back nine at the ShopRite LPGA Classic.

"I feel like my game is great right now, but I have 36-holes to play," said Kang, just as the skies opened and play was suspended for a second time while she was signing her scorecard. "I started really hot and that scared me a little, but I tried not to think about it and just focus on the shots at the present."

Kang had a quiet back nine compared to the front with two birdies and just one bogey.

Kang showcased why she was able to win twice on the LPGA Tour (2005 LPGA Corning Classic and 2010 Sime Darby LPGA Malaysia) attempting just 26 putts, hitting 13 of 14 fairways and finding 15 of 18 greens in regulation.

"I'm a work in progress and I'm really excited," said Kang, who has 14 career top 10 finishes on the LPGA Tour with earnings exceeding $2 million. "I think I am on the right track and the score kind of shows that so I am pleased."

Kang won the Mission Health Wellness Classic earlier this year and currently ranks second on the Volvik Race for the Card money list. In five events this year, she has three top 10 finishes, a tie for 11th and a tie for 23rd.

Kang has suffered through severe health issues steaming from allergies over the last two years. She missed nearly the entire 2013 season on the LPGA Tour and rushed back for 2014, but wasn't 100 percent ready to compete.

"It was a disaster trying to figure out what was wrong with me, but I love competing and I love golf," said Kang. "It was hard to make the decision to take a year off and it was even harder to make the decision to come back. As soon as I was able to walk I started to grab a golf club and swing."

IVY LEAGUE PLAYERS SHOWING UP: You don't generally associate the Ivy League with top professional golfers and that is for good reason because before this year, there were only two that had ever played on the LPGA Tour.

Kelly Shon, who played half a year last season on the Symetra Tour, is starting to change the perception. The 2013 Princeton graduate, who qualified for the Tour through LPGA Qualifying Tournament, is 51st on the LPGA money list this year and is playing in her first major this week.

Michelle Piyapattra, who played college golf at Columbia, is hoping to join Shon soon. Piyapattra posted a 3-under 69 on Friday at the Decatur-Forsyth Classic.

"I'm always rooting for her and it is great to see a fellow Ivy Leaguer out on the LPGA Tour and I hope to join her soon," said Piyapattra. "There is always this misconception about people from the Ivy League, and yes there are very few of us, but it is nice to see one of us out on the LPGA. She did so well at the ShopRite LPGA Classic and I was so happy to see that."

The decision to play Ivy League golf wasn't easy. The decision to play in New York City was even more
difficult.

"When I first decided to go to Columbia, I thought my golf might suffer," said Piyapattra, who was the valedictorian of Lutheran High School. "Just dealing with being in New York City with actual seasons when I'm originally from California and we get to play all year. Being competitive in college showed me that I could get past the obstacles so I decided to give professional golf a try."

Piyapattra recently won on the Canadian Women's Tour for a second consecutive year and earned an
exemption into the Canadian Pacific Women's Open on the LPGA in late August.

ILLINOIS STATE'S SAMANTHA RICHDALE IN HUNT: Samantha Richdale, who was a star at Illinois State, posted a 3-under 69 on Friday.

"I gave myself a lot of looks at birdie and I made four birdies and one bogey so it was a good day," said
Richdale. "I've played this event every year since I've played on Tour except my years on the LPGA so I'm definitely familiar with Hickory Point. It can get windy out here and I'm used to that since I went to Illinois State."

"I like this golf course a lot," said Richdale. "It feels familiar since it is close to where I went to school."

She graduated from Illinois State in 2006 and immediately started playing on the Symetra Tour. She has 21 career top 10 finishes and three wins. Richdale finished fourth on the Volvik Race for the Card money list in 2009 and played for three seasons on the LPGA Tour.

She ranks 23rd on the money list this year with a pair of top 10 finishes.

QUICK NOTES: Madeleine Sheils, who won last week, is off this week. Her caddie, Wayne Uyeda, picked up Natalie Gleadall's bag. Gleadall fired a 3-under 69 on Friday. Gleadall made the cut in her hometown LPGA Tour event last week, the LPGA Manulife Classic...Nontaya Srisawang, who triple bogeyed the final hole last week to fall out of contention, carded a 3-under 69...There are unofficially 57 players under-par with the first-round to resume Saturday.