World Blood Donor Day
Posted: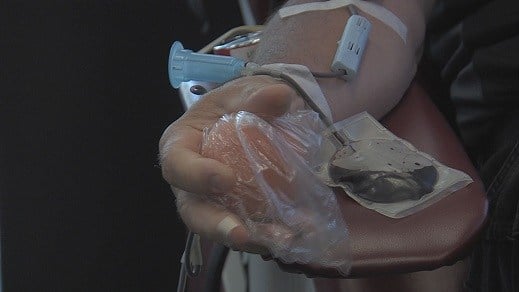 CHAMPAIGN - Patti Quigg is a pro at donating blood.

"I gave mine in under ten minutes," she said Sunday after donating at Faith Methodist Church in Champaign.

She's one of many who gave blood Sunday as they celebrated World Blood Donor Day. Patti gives bloods for many reasons. She once donated blood to save her mother's life."

"My mother, her blood count got real low one time and she had to get blood to get her blood built back up," said Quigg. So it's very important. It's life. I'm a nurse, and I know first hand, you know, the importance of needing blood for people who've had an accident or surgery. It actually saves lives."

According to the American Red Cross, someone in the U.S. needs blood every two seconds. That means more than 41,000 donations are needed every day. Type O is the most requested.

"I feel like I'm helping people, and it just, you know, makes me feel good," said Quigg.

Community Blood Services of Illinois set up shop outside of the church in a mobile home to make the process easier.

"You fill out a questionnaire," said coordinator, Marvin Reed. "They check your blood pressure, check your temperature, take your blood count, and get you ready to donate."

The annual international celebration always falls on June 14, the birthday of Karl Landsteiner. He's considered the first scientist to distinguish the main blood groups.