Illinois in MLB Draft: Jay Signs 7-Figure Deal, Goldstein Announces Return to Illinois
Posted: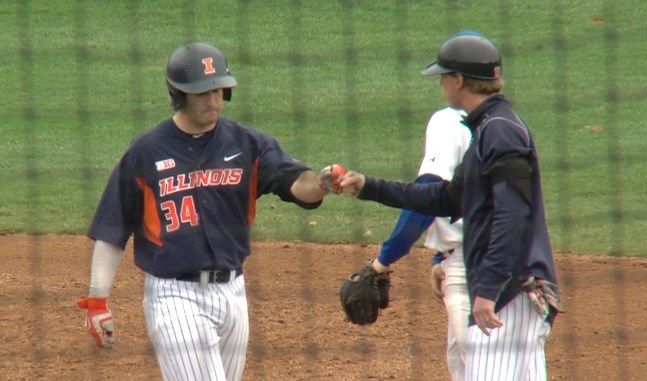 By Matt Loveless
CHAMPAIGN -- At least one piece of Illinois baseball's record-breaking 2015 campaign is returning.
Jason Goldstein, one of a record nine Illini taken in the MLB Draft, is coming back for his senior season, the school announced Wednesday.
Goldstein hit .286 with 8 homeruns and 47 RBIs as a junior, starting 57 games for the Illini at catcher.
He was one of six non-seniors picked in the draft, who all have the option to return to school.
The decision was easier for a couple of underclassmen. Wednesday afternoon, LHP Tyler Jay - the 6th overall pick in the draft - signed with the Minnesota Twins. Jay passed a physical for the Twins Wednsday, and according to
MLB.com
's Jim Callis, Jay
will get the full slot bonus
of $3,889,500
LHP Kevin Duchene
signed a deal
with the Oakland Athletics, earning a $300,000 signing bonus in the process. Duchene was picked in the 5th round by Oakland.
All three of the seniors picked in the draft have signed on with their teams -- David Kerian (9th round to Washington) , Rob McDonnell (25th round to the Dodgers), and Drasen Johnson (26th round to the Rockies).
That leaves three undecided: Sophomore SS Adam Walton, junior RHP Nick Blackburn, and LF Ryan Nagle.
A source within the Illinois baseball program told WAND TV all three are expected to return, but haven't given official notice. The deadline to decide is July 15.
DRAFTED ILLINOIS PLAYERS RETURNING:
C Jason Goldstein

SIGNED WITH MLB TEAMS
LHP Tyler Jay (MIN)
LHP Kevin Duchene (OAK)
1B David Kerian (WAS)
RHP Rob McDonnell (LAD)
RHP Drasen Johnson (COL)
UNDECIDED
SS Adam Walton
RHP Nick Blackburn
LF Ryan Nagle