Juneteenth celebration in Decatur gets emotional
Posted: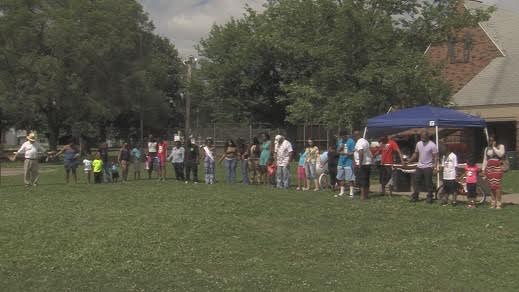 DECATUR - The park became silent.
"Cynthia Hurd. Susie Jackson. Ethel Lance..."
Emotions grew heavy as a young man named the victims of a recent shooting in Charleston, SC that killed 9. A worship leader led a prayer that quickly turned into a local outcry.
"I will not accept it," said Jacob Jenkins of Love Fellowship Baptist Church. "I will not accept the violence. I will not accept the racism. I will not accept the hate, because we are united here in Decatur."
Soon after the prayer ended, the somber heartbreaking atmosphere turned into a joyous occasion; a celebration of Juneteenth.
"As I told the crowd when we really started, I said Happy Birthday Freedom," said Decatur city councilman.
Juneteenth commemorates the official end of slavery. June 19, 1865 is the day the Emancipation Proclamation was read for the first time. Dozens gathered in Decatur's Garfield Park on Sunday to the celebrate the 150th anniversary of the reading.
"We can never forget that, so this is a celebration of what we can never forget," said Decatur Park District commission Stacey Young. "What they've done. Things they've overcome. And we have to be able to move forward in that."
The celebration included musical performances, a father/son basketball contest, a bike giveaway, good food, words of encouragement from spiritual leaders, and free haircuts.
"It's a celebration of physical freedom, and we need to honor that," said local radio host Crystal Cleere. "We need to respect it."
Several local organizations united to carry this event. They include Brothers Overcoming the Struggle, Decatur Black Chamber of Commerce and Neighborhood Association, and Rebirth of Black Decatur.
CORRECTION: THE ORIGINAL STORY THAT AIRED STATED THAT "CARING BLACK MEN" WAS A PARTICIPATING ORGANIZATION. IT WAS NOT. THE ORGANIZATION WAS NOT INVOLVED WITH THIS EVENT.