Tyra Perry Named New Head Coach of Illinois Softball
Posted: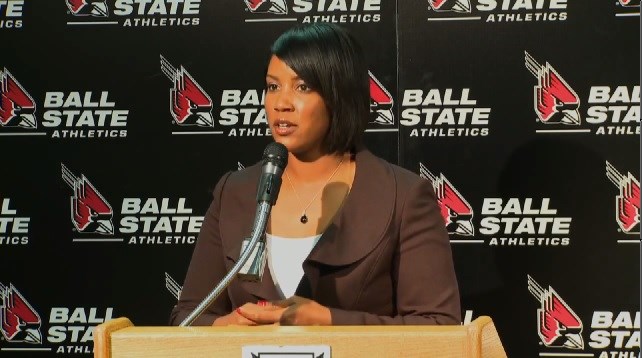 CHAMPAIGN (fightingillini.com)--The University of Illinois has selected former LSU standout and 15-year head coaching veteran Tyra Perry (
@TyraPerry13
) as the new head coach of the FIGHTING ILLINI softball program, pending Board of Trustees approval, Director of Athletics Mike Thomas announced Wednesday. Perry is the second head coach in Illinois history, replacing
Terri Sullivan
who is retiring after 16 years on the job.
"We are thrilled to welcome Tyra Perry to the Illinois family as our new head softball coach," Thomas said. "There was a great amount of interest in the program, with Tyra separating herself from a deep and talented pool of candidates. The Big Ten Conference has a strong tradition in softball, and I am confident Tyra will help us maintain our upward momentum and push us to new heights."
Perry has spent the last 15 seasons as an NCAA Division I softball head coach, totaling 409 career victories as the head coach at Ball State, Western Kentucky, and Birmingham-Southern.
During her two seasons at Ball State, Perry directed the Cardinals to 67 wins with a combined nine All-MAC selections and 13 Academic All-MAC honorees. This year's team went 34-25 and won the Mid-American Conference West Division before claiming the 2015 MAC Tournament Championship, earning the Cardinals an automatic bid to the NCAA Tournament. Ball State defeated 16th-seeded Notre Dame in postseason action to record its first-ever NCAA Regional victory.
Perry was named 2014 MAC Coach of the Year during her first season at Ball State after guiding the program to a 33-19 mark and overall conference title during the regular season. The Cardinals had a program-record five first-team All-MAC selections, led by Player of the Year Jennifer Gilbert, who also earned All-America honors.
"It is a great honor to be named the next head softball coach at the University of Illinois," Perry said. "I am passionate about the wonderful game of softball and will work tirelessly to help lead our program to prominence in the Big Ten and on the national stage. I am thankful to Mike Thomas and the Fighting Illini family for giving me the opportunity to compete at the highest level. I am excited and ready to get to work."
Prior to Ball State, Perry spent six seasons as head coach at Western Kentucky, guiding the Lady Toppers to 196 victories to become the winningest coach in program history. In 2013, WKU earned its first-ever NCAA Regional appearance, advancing to the championship game of the Tuscaloosa Regional. Western Kentucky finished the year ranked No. 26 in the NCAA Ratings Percentage Index (RPI), the highest final ranking in program history.
Perry also guided the Lady Toppers to several other firsts during the 2013 campaign. The program posted its first 40-plus-win season (43-18) and earned its first Sun Belt Conference regular season title with a 20-3 league record.
The two-time Sun Belt Coach of the Year (2009 and 2013), Perry helped Emily Rousseau earn the program's first SBC Pitcher of the Year honor in 2013. In her six seasons with the Lady Toppers, Perry helped her players garner 14 All-SBC honors and eight SBC All-Tournament Team selections.
In the classroom, Perry's Western Kentucky student-athletes earned five CoSIDA Academic All-District selections, 22 recognitions on the Sun Belt Commissioner's List and 34 Sun Belt Academic Honor Roll awards.
Perry guided Birmingham-Southern to 146 victories in seven years as head coach (six seasons of competition), despite the Panthers being a provisional NCAA Division I member during the 2002 and 2003 seasons. In 2006, she led Birmingham-Southern to its first winning season in program history with a 28-21 record.
Her Panthers squads posted at least 25 wins in each of her final five seasons with the program. In addition, 15 Birmingham-Southern student-athletes received postseason honors from the Big South Conference during Perry's tenure.
In 2006, Perry added the title of Assistant Athletic Director/Senior Woman Administrator to her duties and served as the school's compliance director. Perry also was the head coach for a Southeastern All-Star team that played the United States Olympic squad prior to the 2004 games in Athens.
A 1997 and 1998 graduate of Louisiana State University, Perry earned a bachelor's degree in kinesiology in 1997 and added a master's degree in sports administration in 1998. She was a two-year letterwinner in softball for the Tigers (1997-98), helping the program post a combined 102-28 record over her career, including a 58-14 mark in Southeastern Conference play. She also helped the Tigers pick up a pair of SEC West Division titles and make the program's first-ever NCAA Regional Tournament appearance where it finished second.
In her first season at LSU, Perry led the Tigers with a .345 batting average, 11 home runs, 40 runs scored, .416 on-base percentage and .612 slugging percentage. Those numbers helped her earn recognition on the National Fastpitch Coaches Association All-South Region Second Team, as well as First-Team All-Louisiana honors and a slot on the SEC's All-Tournament Team. Perry led the team with five homers in 1998 while posting a .324 average with 29 runs scored and 38 RBI. Off the field, she was twice named to the SEC Academic Honor Roll.
Prior to entering the coaching profession, Perry served a two-year internship in the compliance department at LSU.
Perry was inducted into the Zachary High School Hall of Fame in her hometown of Zachary, Louisiana, in 2007.
Tyra Perry's Head Coaching Career
At Ball State
2015 – 34-25 (14-5 MAC / 1st West) – NCAA Regional Appearance
2014 – 33-19 (12-4 MAC / 1st Overall)
> 2-Year Total: 67-44
At Western Kentucky
2013 - 43-18 (20-3 Sun Belt / 1st) – NCAA Regional Appearance
2012 - 33-25-1 (11-12-1 Sun Belt)
2011 - 30-29 (9-15 Sun Belt)
2010 - 27-25 (6-15 Sun Belt)
2009 - 35-19 (14-9 Sun Belt)
2008 - 28-30 (6-15 Sun Belt)
>6-Year Total: 196-146-1
At Birmingham-Southern
2007 - 25-37 (5-10 Big South)
2006 - 28-21 (7-5 Big South)
2005 - 25-32 (5-7 Big South)
2004 - 25-34 (6-6 Big South)
2003 - 26-32 (NCAA Division I Provisional Member)
2002 - 17-42 (NCAA Division I Provisional Member)
2001 – N/A (establishing program)
>7-Year Total: 146-198
>> 15-Year Career Head Coaching Total: 409-388-1