Forsyth and Long Creek brace for more storm damage
Posted: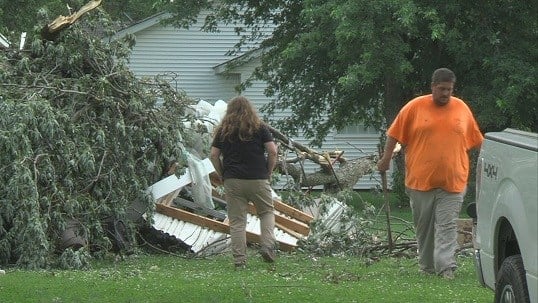 MACON COUNTY - According to the National Weather Service says, the storm that hit Northern Macon County was considered an EF-0 tornado. Most of the visible damage can be found in Forsyth. Even though the severe weather hit two days ago, the mess still remains.
"Major roof damage and there's structural damage," said Forsyth Public Works director Larry Coloni.
Some structures have broken windows. Several fields are flooded. The storm even displaced a fire hydrant.
"Our first step is to clear the streets to make sure emergency vehicles can get to and from their locations," said Coloni.
Many residents are left with fallen trees. The challenge is getting them to the curb to be picked up.
"We are going to take care of whatever tree limbs they put at the edge of the street," said Coloni. "If they they need assistance, we'll try and help them find assistance to help remove those trees they can't get to the street."
The village of Long Creek is in a similar situation as it recovers from Saturday's extreme weather.
"I just hope it doesn't happen again and it's worse," said Long Creek's village president Cheryl Smith.
Whether it's worse or not, WAND's weather experts say another severe thunderstorm looms.
"We are concerned about our residents and we do hope that everyone gets to safety," said Smith.
Back in Forsyth, Coloni is a little worried that the work load is too heavy for his staff , especially because they're still cleaning up from Saturday.
"We're a small staff," he said. "I only got five full employees, and so we're busy with other normal work during the day."
But overall, he's confident they will get the job done.