Grocery Grab Galore
Posted: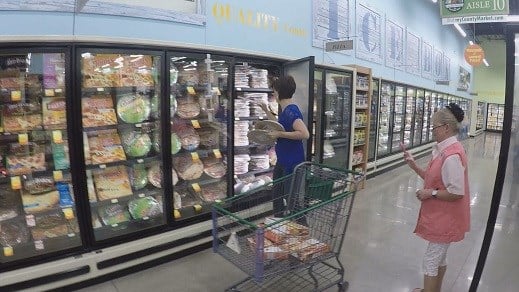 DECATUR - She got three minutes, one cart, and a chance to grab up to $1,000 worth of groceries.
"She said you've won grocery grab and I was like oh my goodness," said Jean Buttz as she recounts she was awarded the opportunity.
The grocery grab is an annual fundraiser for St. Mary's Hospital Auxiliary. Dozens of people purchase a $10 raffle ticket. All of the money raised from ticket sales goes to the Auxiliary. On July 3,one ticket was pulled and Buttz was announced as this year's winner. However, Buttz opted out of taking laps around Decatur's County Market grocery. Instead, she elected her daughter.
"She's young and she was a former athlete and she runs fast so I knew she could move faster than I can," said Buttz While her daughter, Jennifer Gideon, caught her breath after running from 3 minutes.
"She was pretty excited and called me, pretty excited, and asked if I would run for her," said Gideon. "So, I told her yes of course."
Before the run, Buttz made sure her daughter knew exactly what to grab.
"She wanted a full ham, which I did get," said Gideon. "Bacon, of all things, which I think I did get, and coffee, which I totally missed that aisle."
Jean doesn't plan on keeping it all to herself.
"I often share food with my neighbors and my friends and cook a lot for them," she said.
Her daughter didn't reach the $1,000 mark, but Buttz is happy she could help St. Mary's Hospital.
"I think the Auxiliary has worked so hard to try to earn money for St. Mary's, and this is just a wonderful fundraiser for the Auxiliary."
If you didn't get a chance to buy a raffle ticket this year, there's always next year.