Major upgrades at Decatur Boys and Girls Club
Posted: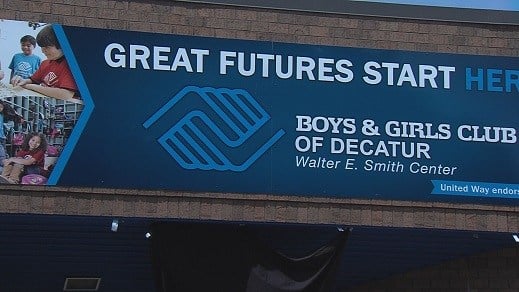 DECATUR - His name is Walter E. Smith. Some call him a community leader. Others call him an icon. Whatever his title, he's garnered the respect of dozens in Decatur. Wednesday afternoon, that respect was made visible by the unveiling of the new Walter E. Smith Center. Smith was the executive director of Decatur's Boys and Girls Club for more than three decades. Wednesday, his work was honored with a permanent banner that features his name on it. It sits directly above the building's entrance.
"We wanted to honor him by putting his name on the facility," said newly appointed executive director Bruce Jeffery. "He laid the foundation. Now we have to build on that foundation."
Thanks to grants and donations from the Decatur community, the Boys and Girls Club was able to do just that: restructure, renovate, and upgrade a facility that was on its last leg.
"it was not a fully air conditioned building, and so the summer time was always a miserable time with 120 kids plus everyday."
Program director Kerra Williams says the kids had to spend a lot of their time outdoors.
"Instead of being in the gym, we'd be outside because actually the gym would be hotter than outside," she said.
Williams says Jeffery worked diligently to collect money from the community. Over the last few months, he's poured all of it into structural repairs, getting air conditioning for the entire building, upgrading the gymnasium, and restocking the game room.
"You got two new brand new high schools that have been renovated and so why not the Boys and Girls Club," he asks. "Why not be able to give to those kids who need us most and be able to provide them with a adequate facility for them to learn and grow."
The goal is to continue the dream of Walter E. Smith.