Local Horseshoe Thrower to Appear on ESPN Sport Science
Posted: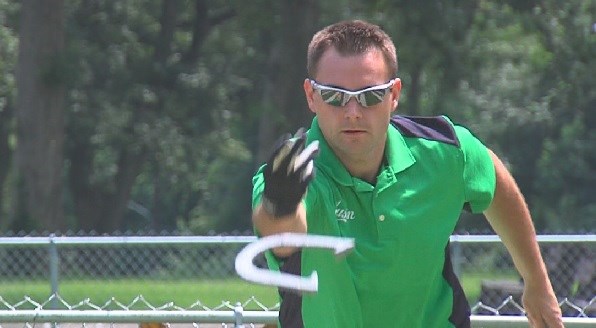 By Matt Loveless
SPRINGFIELD - Most people know how to play it, but Austin Bailey has turned it into a science -- quite literally.
Bailey, a 25-year-old Springfield horseshoe pitcher, will appear on the ESPN program "Sport Science", analyzing the mechanics of the sport's elite.
A Lanphier grad, you'll often find Bailey tossing horseshoes with friends at the Don Bailey Horseshoe Court at Lincoln Park in Springfield.
Don was his grandfather, who got him into the sport at an early age.
"I played my first sanctioned tournament when I was seven years old," said Bailey, who also follows in the footsteps of his father and uncle. "I'm the only one that really stayed with it after my grandpa passed away."
Since, he's grown into one of the top players in the world.
"My goal was always to be in the top-20, and I actually achieved that earlier this year. I was the number 20th pitcher in the world," said Bailey. "Going into the world tournament this year, I'm actually going to be number 12."
That world tournament is in Topeka, Kansas July 20-22, and Bailey will be one of 16 competitors in the tournament's top division.
National TV viewers, however, will get to know Bailey better Saturday, when he makes his ESPN debut.
It was an opportunity offered to him by National Horseshoe Pitchers Association VP Bill Marvin
"Next thing I know I'm on a plane, and they're flying me out to Burbank, California."
If you haven't ever seen it, "Sport Science" is quite the spectacle. They use advanced sensors, super slo-mo cameras, and fancy editing that most often measure, for example, the power of a football player, or accuracy of a basketball player. Generally, some of the most well-known athletes in the world are featured.
According to Bailey, there was plenty involved in his visit -- even for horseshoes.
"They hooked me up to electrodes," he said. "I had a jumpsuit on. Endurance, speed, agility, hand-eye coordination. All the stuff that it takes to pitch horseshoes, they measure it."
As for how he did, or what exactly we'll see on the program, Bailey's been sworn to secrecy.
He did pump it up as "can't miss".
Kind of like his horseshoe stroke.
"It will blow your mind," he said. "It blew mine."
The Sport Science segment will air Saturday, July 18 during ESPN 2's coverage of the World Horseshoe Tournament between 8am and 11am CT.