Cameron, Illinois hit by Tornado
Posted: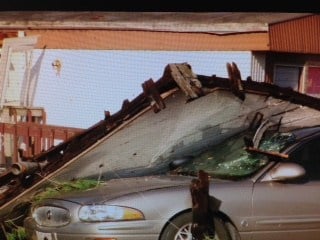 UPDATE: The Galesburg Salvation Army is accepting food, hygiene products, and clothing clothing donations for individuals affected by this tornado. No monetary donations for this tornado are being accepted at this time. Donations may be dropped off at 510 North Kellogg Street in Galesburg.

Additionally, trains have begun to travel through the town. However, they will follow a safety protocol that requires a very low traveling speed, and for trains to stop at all intersections. Motorists are advised that these frequent stops will lead to delays.
------------------------------------------------------------------------------------------------------
CAMERON - A tornado touched down in the town of Cameron, Illinois Thursday evening, causing significant damage to the town. There are no reported significant injuries to the residents.
Numerous emergency service personnel and agencies are on the scene conducting search and rescue operations. All gas and electric services have been shut off to the town for safety.
No one is being allowed into the town right now. The public is asked to stay away from the area so as not to hamper emergency operations.
United High School located near Monmouth has been set up as a temporary shelter for those displaced by the storm.
The rural town of Cameron is located approximately 148 miles northwest of Decatur.