Preseason OVC Poll: Jacksonville State Favorite, EIU Picked Third
Posted: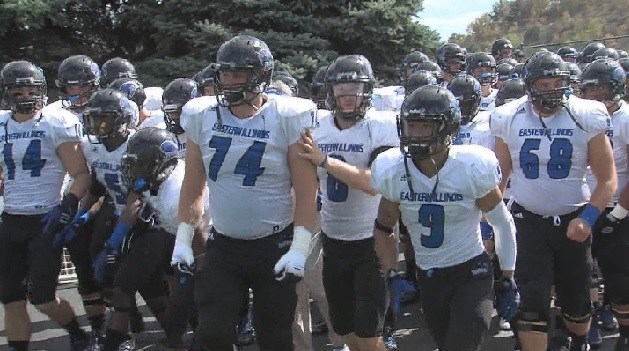 For the second-straight year the media covering the Ohio Valley Conference have conducted a Preseason Football Media Poll prior to the start of the season. In total 15 voters from around the league cast a ballot on who they thought would be the 2015 football favorites and preseason players of the year.
The OVC will release its preseason poll and All-OVC team, as voted on by league head coaches and sports information directors, on Monday during the league's annual Media Day in Nashville.
The media panel picked the Jacksonville State Gamecocks as the preseason favorite, picking up 14 of 15 first-place votes and 134 total points. Eastern Kentucky (102), who picked up the other first place vote, was tabbed second, one point ahead of Eastern Illinois (112). UT Martin (83) was picked fourth and followed by Southeast Missouri (59), Tennessee State (57), Tennessee Tech (54), Murray State (46) and Austin Peay (17).
In addition the pollsters tabbed Eastern Kentucky senior running back Dy'Shawn Mobley as the Preseason Offensive Player of the Year and Jacksonville State senior defensive lineman Devaunte Sigler as the Preseason Defensive Player of the Year.
The pollsters for the 2015 OVC Media Poll included: Autumn Allison, The Leaf-Chronicle; Mike Bradd, Eastern Illinois Radio; Neal Bradley, Murray State Radio; Chris Brinkley, Skyhawk Radio Network; Thomas Corhern, Cookeville Herald-Citizen; Craig Haley, STATS; David Loos, Governors Sports Network; Edward Marlowe, Paducah Sun; Mike Organ, The Tennessean; Mike Parris, Jacksonville State Radio; Greg Stotelmyer, Eastern Kentucky Radio; Craig Thomas, Jackson Sun; Erin Unerstall, Southeast Missourian.
2015 Media OVC Preseason Football Predicted Order of Finish
1. Jacksonville State (14 first-place votes) - 134 points
2. Eastern Kentucky (1) - 113
3. Eastern Illinois - 112
4. UT Martin - 83
5. Southeast Missouri - 59
6. Tennessee State - 57
7. Tennessee Tech - 54
8. Murray State - 46
9. Austin Peay - 17
2015 Media OVC Preseason Offensive Player of the Year: Dy'Shawn Mobley (RB), Eastern Kentucky
2015 Media OVC Preseason Defensive Player of the Year: Devaunte Sigler (DL), Jacksonville State