Walton, Blackburn Stay, Nagle Signs on Decision Day for MLB Draftees
Posted: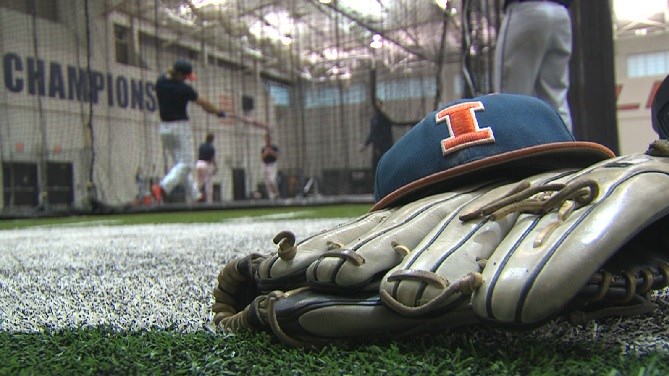 CHAMPAIGN, Ill. - Fighting Illini junior Ryan Nagle will forgo his senior season at Illinois after signing with the Pittsburgh Pirates, who drafted him in the 27th round (No. 817 overall). Nagle was assigned to the West Virginia Black Bears (Class A Short Season) of the New York-Penn League.
Nagle becomes the 7th player from Illinois' 2015 squad to sign a pro baseball contract.
The deadline for players to decide whether to sign passed at 4pm CT Friday, but it also came with good news for an Illinois squad hope to reload after a record-setting season.
Redshirt-sophomore Adam Walton will return for his junior year in 2016. The UI shortstop was drafted in the 20th round by the Baltimore Orioles, but did not sign with the MLB team.
Walton was the Illini leadoff hitter and a first-team All-Big Ten shortstop in 2015.
In addition, RHP Nick Blackburn will return for his senior season in 2016 at the University of Illinois. Blackburn was drafted in the 22nd round by the New York Mets, but did not sign with the MLB team. He was a key reliever during Illinois' record-setting 2015 season.
Today's news means three of Illinois' nine drafted players will return in 2016. Catcher Jason Goldstein announced his return last month.
Three Illini signees - Luke Shilling (Clarkston, Mich. - Notre Dame Preparatory), Brenden Spillane (Wheeling, Ill. - Wheeling HS) and Jalin McMillan (Chicago, lll. - Simeon Career Academy) - also were drafted in 2015, but did not turn pro and will attend the University of Illinois.
2015 Illinois Baseball School-Record Nine MLB Draft Picks
Pick (Round) Name - Team
No. 6 (1) Tyler Jay - Minnesota Twins
No. 158 (5) Kevin Duchene - Oakland Athletics
No. 284 (9) David Kerian - Washington Nationals
No. 522 (17) Jason Goldstein - Los Angeles Dodgers *did not sign
No. 613 (20) Adam Walton - Baltimore Orioles *did not sign
No. 659 (22) Nick Blackburn - New York Mets *did not sign
No. 762 (25) Rob McDonnell - Los Angeles Dodgers
No. 767 (26) Drasen Johnson - Colorado Rockies
No. 817 (27) Ryan Nagle - Pittsburgh Pirates