Dinosaurs in Decatur!
Posted: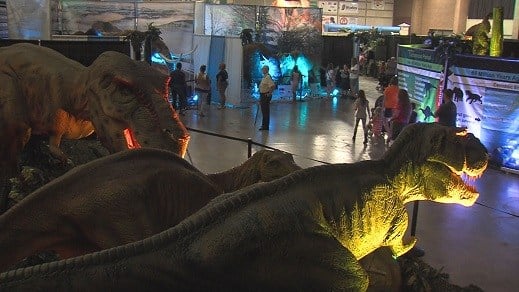 DECATUR - They were big! They were loud!
"He likes the T-Rex," exclaimed Kimberly Sallee. Thanks to special effects, Sallee's young son probably thought the dinosaurs at the Decatur Civic Center were real at first glance. "At first he was a little bit afraid, but once he got into the exhibit and saw how much fun the kids were having, he was just all into it and ready to take off and get into it."
The dinosaurs arrived at the Decatur Civic Center on Friday as part of a nationwide tour called Discover the Dinosaurs.
Blue Star Media is the company in charge. Team member Lamarkus Jones says he never gets tired of seeing kids react to the exhibit.
"It's educational, but still fun at the same time," he said.
Each dinosaur exhibit revealed interesting facts supported by archaeological studies. On top of that, their were interactive activities.
"We have face painting, inflatables," said Jones. "We have rides."
Sallee said summer experiences like this don't come to Decatur often. She hopes this is the start of something good.
"Children need activities to keep them positively engaged and to give them some educational opportunities, especially in the summer time," she said. "If this is a start, I think it's a really good one."
The Decatur exhibit closed down Sunday night, but Blue Star Media has another one up and running in Chicago at Navy Pier. It ends August 2.