Oakwood Teen to Make NASCAR Debut Wednesday
Posted: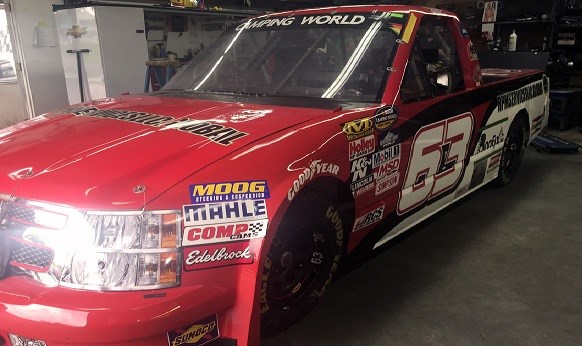 By Matt Loveless
OAKWOOD -- A big year opened a big opportunity for local dirt track star Bobby Pierce.
The 2015 DIRTCar Summer Nationals champion will compete in the NASCAR Camping World Truck Series in Eldora, Ohio, at the age of 18.
"This is NASCAR's only race on dirt," said Pierce. "That's kind of what's led us to thinking well maybe if we get a shot racing this, maybe it will open some other doors."
Pierce will drive the Mittler Brothers Motorsports #63 RPM Services, LLC / Roofix Chevy Silverado.
"We've always talked to each other," said Pierce, who's father, Bob, has maintained a friendship with MB Motorsports. "Having fun with it, we've liked saying 'Maybe you can give us a ride in a truck sometime.'"
He may make it sound like a favor from a friend, but Pierce has already earned his keep as one of the country's best dirt track drivers.
Pierce's Summer Nationals championship came during the month-long, 18-race "Hell Tour". He became the youngest to win the overall points title, and the Pierces became the first father son duo to have won. Bob Pierce won twice, in 1992 and 1995.
"The whole tour went kind of easy," said Bobby, who avoided any major issues during the night-in, night-out grind. "I had the lead for most of the tour."
Much like the Hell Tour, Pierce gets little time to prepare for his big debut. The family went to get the truck from Missouri over the weekend, to prepare it for the trek to Ohio to get ready for the race.
Still, he remains confident he can compete with the best.
"I've only made a couple laps in it. I tested it at Tri-City Speedway, and it's kind of like driving a dirt late model."
He then smiled and said, "just not at all, at the same time."
The truck series has been a stepping stone for plenty of NASCAR's biggest stars, including Kurt Busch, Kyle Busch, Kevin Harvick, and Carl Edwards.
In fact, 2012 NASCAR Sprint Cup champion Brad Keselowski will be competing in Wednesday's race.
There's no long-term agreement or plan to keep Pierce on the truck series, since his experience in asphalt races is limited. Pierce knows, however, that this could be his way in.
"It's all about opportunities, finding the right sponsorship," he said. "If I can just keep going, and open eyes, open more doors, and it all goes together, and that's what leads you to new opportunities."
The race is set to begin at 8pm CT Wednesday, July 22 and will air on Fox Sports 1.
The truck Pierce will race will be on display in Oakwood this weekend.
The display will be part of the town's Freedom Fest that runs from noon to midnight on Sunday, July 26 at the The Pitstop Bar and Grill.