#communitypolicing
Posted: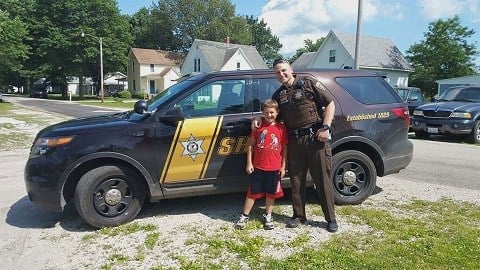 MACON COUNTY - Macon County Sheriff's deputies are getting out of the office and on to the streets. There calling it #communitypolicing and making it known on Facebook. Over the last several weeks, the page has showcased several photographs of moments shared between law enforcement and community members.
On July 15, a photo was posted of a patrol officer and a young fan. on July 17, staff posted a picture of two deputies buying lemonade from a young entrepreneur. The post included #communitypolicing. The hashtag was also used in a post made on July 19 when staff served ice cream at Scovill Zoo in Decatur. Lieutenant Jamie Belcher says community policing is any action that helps residents feel like they can trust law enforcement - and not fear them as enemies. Belcher says the community isn't afraid to communicate with officers when that fear is gone. He used a recent break-in at a Cheddar's Restaurant in Forsyth as an example, saying that an arrest was made quickly because of someone who doesn't even have a uniform.

"None of that could have been accomplished without a community member being out on a walk, paying attention to the news and seeing that we were looking for people that wore masks for an armed robbery," Belcher told WAND News.

He says opening up the line of communication is what it's all about.
"That individual saw some masks on their morning walk. They weren't a bit scared to call us and say ,hey, this is what I saw."
The next event that will get the community policing stamp is a free lunch at Texas Roadhouse in Forsyth. Deputies and Correction officers will be there July 31 at 11 am serving one free meal to anyone who comes. They will collect monetary donations for Special Olympics Illinois.