C-U's Vipers Track Club Headed the Jr. Olympics
Posted: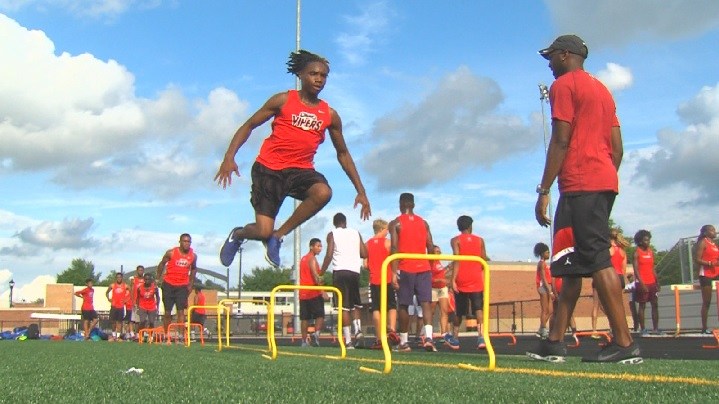 By Matt Loveless
URBANA -- Each weekday evening at Urbana High School, you can find some of the best young athletes from central Illinois.
"I look at the team and I look the roster I say 'Wow, we kinda built a juggernaut for central Illinois,'" said Marques Lowe, executive director, and coach, of the Vipers Track Club.
"Juggernaut" is a word Lowe could hardly have imagined using just 5 years ago.
The club, which once had four total members, is now a well-oiled, 52-member machine. Next week, they'll send 30 athletes to the USA Track & Field National Junior Olympics in Jacksonville, Florida.
"Some of the kids that have been on the club for this existence, you've seen them grow and blossom into great athletes," said Lowe. "Now they are going onto the collegiate levels."
Lowe, a track athlete at the University of Illinois from 2001-2006, is now the coach at St. Thomas More High School.
He started the club in 2010 as a way to help Champaign-Urbana's at-risk youth.
"Everybody can compete with each other and practice so you get great training, you meet great friends and it's lasting memories for a lifetime," said Lowe.
Centennial High School grad Dominique Lewis is in her 4th year with the Vipers. Just this spring, Lewis capped off a strong high school career with runner-up finishes in the 100m and 200m sprints at the IHSA state track & field championships.
She credits much of that success to non-stop training.
"When high school was over I would jump right into the summer season," said Lewis, who will compete in the 100m, 200m, 4x100, and 4x400 races. "It has just helped me become stronger, faster, and just ready to run in college."
Lewis' stellar youth career earned her a chance to run at the University of Wisconsin. She goes to school next month.
It's just one of a number of success stories emerging for the track club. Danville's Emone Davis committed to run at the University of Illinois.
As more benefit from the summer help, more are seeking it.
"I actually did not plan on doing summer track," said Centennial's Vincent Gordon, "and then I saw the rest of my 4x1 relay team. So that was just a boost like come join."
Despite its humble beginnings, the club already has a growing list of notable alumni, including current UI track athletes Samone Thomspon and Lateshia Dove.
"I honestly feel that we have some Olympians down the line in 2020," said Lowe. "If they continue to do well so you know as a coach I feel like I have planted that seed and that seed is going to keep growing so im excited about that."
The USATF Nationals start on July 27 and continue through August 2. You can follow the championships and find results here.