Beckman Sidesteps Questions About Football Investigation at Big Ten Media Day
Posted: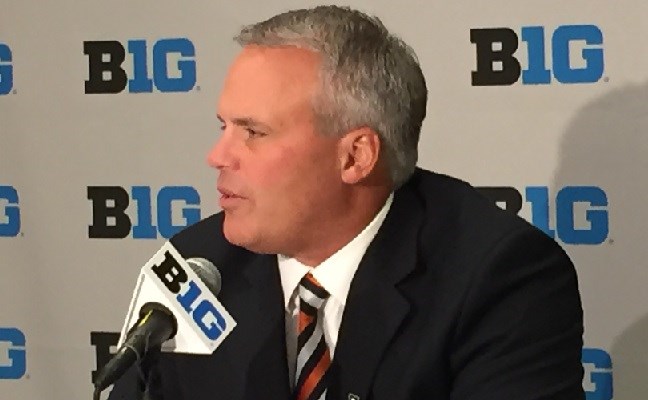 By Matt Loveless
CHICAGO -- It was a serious topic on what is often a rather circus-like day for college football teams, fans, and media.
It was also a topic Illinois head coach Tim Beckman didn't see fit to discuss.
"You know, we're focused right now on a 2015 football team," said Beckman.
That was Beckman's repeated answer to questions about an investigation into the Illinois football program.
That investigation began in the days after former OL Simon Cvijanovic ripped Beckman, the football program, and the athletic department with hundreds of inflammatory tweets in May.
Cvijanovic -- who represented Illinois at 2014 Big Ten Media Day -- claimed he was forced to play through an injury, treated by an unlicensed trainer, and was the victim of continued verbal abuse by Beckman and the coaching staff.
The university ordered an independent investigation of Cvijanovic's claims, but have not released any findings.
When asked again about the investigation, Beckman made clear there was only one topic he wanted to discuss.
"I'm only concerned about one thing, and that's August 5th to September 4th," he said. "I'm focusing now on creating an atmosphere that our players are successful in. That's all I'm worried about right now."
While not addressing the allegations or the investigation directly, Beckman talked about his philosophy in dealing with student-athletes.
"We're fathers," he said. "I think that each one of our coaches would say the same thing. We're in the process of providing avenues for our football players to become better men, become better football players. We want the best."
Current and former players have come out on both sides of the ensuing debate, some telling their own stories of problems within the program, and others defending their coach.
Controversy aside, Beckman was already a name on "hot seat" lists across the country, entering 2015 without a contract extension.
He comes into the season with a 12-25 record at Illinois coach, including a 4-20 record in conference play.
Despite that, Beckman fielded just two questions at his opening press conference regarding on-field topics -- one each about offensive coordinator Bill Cubit and co-defensive coordinator Tim Banks.
Most in attendance wanted to focus on bigger things.
"We're focused in on what we can be focused in on right now," said Beckman.
You guessed it, "That's Kent State."