Big Ten Media Day Recap: Illinois, Ohio State Address Off the Field Issues
Posted: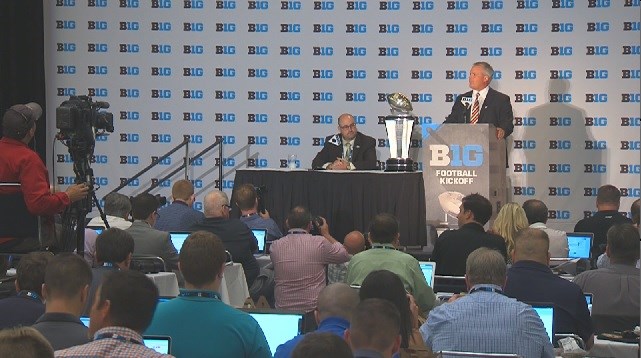 CHICAGO -- On day one of Big Ten Media Days Illinois head coach Tim Beckman addressed the media for the first time since allegations of player abuse were made against his program. Beckman and his three seniors said the scrutiny this off-season has brought the team closer together.
"It seemed to come as a benefit to our team," senior LB Mason Monheim said. "We've come together and we show up every day ready to go."
When it came time to talk about football, there was plenty of good for the players to talk about. Coming off their best season in three years, the Illini are feeling confident heading into Camp Rantoul.
"This past season was a huge confidence booster," senior RB Josh Ferguson said. "We just want to build off of what we did last year, just like we did the year before."
Senior Guard Ted Karras talked about the team's lofty goals. "Our goal is to win the Big Ten west, and with no clear favorite we think we have a good shot to do so."
The national champion Ohio State Buckeyes were also one of seven teams in attendance Thursday. Like Beckman, head coach Urban Meyer spent a good portion of the day fielding questions about off the field issues. The school announced four players were suspended for violating team policy, including their best defensive player Joey Bosa.
"I knew this was coming for a while," Meyer said. "At some point we were going to have to address it, and we did."
The Buckeyes are ranked number one in the USA Today Preseason Coaches Poll, and are the heavy favorites to win the Big Ten. Meyer says his team is handling the pressure quite well.
"We had the highest graduation rate in the history of Ohio State football...that's one indicator that we're locked in."
Wisconsin's Paul Chryst was the first of three new head coaches to make their big ten media day debut this week. Nebraska's Mike Riley and Michigan's Jim Harbaugh will face the media on Friday.