Camp Butler undergoes million dollar renovations
Posted: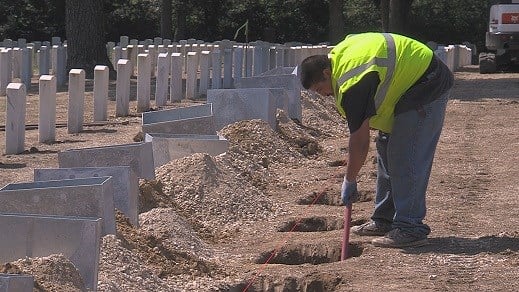 SPRINGFIELD - You can expect noticeable changes at Camp Butler National Cemetery in Springfield beginning this fall.
At a news conference on Monday, cemetery director Paul La Grange told news outlets, "We have two major renovation projects going here at Camp Butler National Cemetery,"
One of those is a headstone realignment project.
"In Central Illinois, there's a lot of frost heave in the winter and that causes them to come out of alignment," said La Grange.
Headstones in six sections of the cemetery will be raised and re-secured. These six sections will also get new turf. The total cost this project is 2.3 million dollars.
"The second major project that we have going on here at the cemetery is a full cemetery irrigation project," La Grange announced enthusiastically.
This is the first time, since the cemetery opened, that Camp Butler will be fully irrigated. The total cost of this project is 2.1 million dollars.
"We'll be able to have green grass in the Summer during dry spells that we get here in Central Illinois," La Grange Says.
The projects are paid for by the U.S Department of Veterans Affairs. La Grange says that there are "standards and expectations that the V.A. and Congress has set for the national cemeteries for appearance."
"We have 20,000 headstones out here," said cemetery supervisor Joseph Wheeler. "We have five memorial markers. We have six building and it all takes money and maintenance. We're just trying to maintain what Abraham Lincoln established."
La Grange told listeners that the V.A. has no problem making the cemetery look perfect because "our heroes are burried here."
Both projects began in April this year. The cemetery should be fully irrigated by this fall. The headstone realignment and new turf installation projects will be finished by next fall.