Major changes at Urbana rape crisis center
Posted: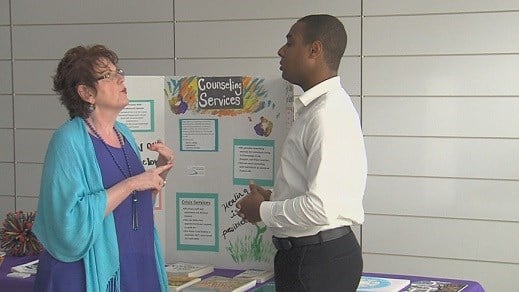 URBANA - Mary Evans is ready to take charge and make a change.
"I think something unique about Mary is here energy and enthusiasm," says her new co-worker Stephanie Ames.
Evans is excited to be the new director of the Urbana agency R.A.C.E.S. It stands for Rape Advocacy Counseling and Education services.
"My first reaction was, oh, I get to be apart of this work in an official capacity," exclaimed Evans at her official welcome party Tuesday. Then about 10 seconds later it hit me, wow you know, this is tough work. Can I do it? Am I up to what I'm being asked to do because, you know, it's a big challenge."
Evans most recently ran a private practice where she served as a life coach. She decided to pursue this new position after getting fed up with the statistics of sexual violence at the University of Illinois.
"One in 5 women will be assaulted during their time at the university," Evan says.
R.A.C.E.S provides legal and medical support for victims and survivors as well as educational enrichment, but Evans says she wants her impact to exceed her office.
"I'm hoping that with the relationships that I have and can further build in the community that we'll be able to advance the cause not only on the 1 on 1 level, which is certainly needed, but on a broader scope, on the community level."
In a written statement to several news outlets, she says:
"I am very excited for the opportunity to serve alongside the exceptional staff and volunteers of R.A.C.E.S. Throughout my career I have been passionate about assisting those affected by sexual trauma and educating our community to end all forms of violence and oppression. I look forward to continuing to provide quality, accessible counseling, advocacy and education within our community and hope to expand R.A.C.E.S presence throughout all of Champaign, Douglas, Ford and Piatt counties."