The Macon County LGBT Youth Group
Posted: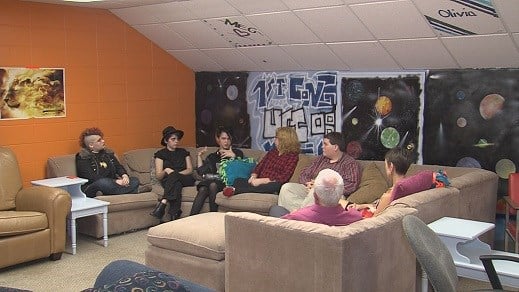 DECATUR - When WAND's Michael Burton scheduled a meeting with the Macon County LGBT Youth Group, he hoped he would be able to meet every member, understand their unique stories, and tell them to the men and women of Central Illinois. However, on the scheduled day, less than half of the group showed up. Many members didn't receive permission from their parents to be seen on camera. After learning what it's like to grow up gay in Macon County, he was not surprised by the weak attendance.
"I got rocks thrown on me," said 19-year-old Sean Baker as he recounted some of his experiences in middle school. "I got hit with a baseball bat in the face."
Baker is one of millions who identify as gay, lesbian, bisexual, or transgender. He says he realized he was gay when he was six. According to lgbt support network , P.F.L.A.G (Parents, Families and Friends of Lesbians and Gays), nearly one in five students are physically and verbally assaulted because of their sexual orientation.
"I was bullied very heavily from middle school to high school," said 19-year-old Leah Trimble.
Some LGBT teens are told it's biblically immoral.
"I remember there was a kid in my class that I told and his immediate reaction was you know that's a sin," said 13-year-old Audrey Hilbrick.
P.F.L.A.G also reports that one in ten LGBT young children and adolescents are assaulted because of their gender expression.
"Several of them are home schooled because, you know, strife in the school or not being accepted or not feeling safe or not feeling like they belonged," said one of the groups founders Jenny Cowgill.
Cowgill's gay son, Ray, became overwhelmed by social isolation in middle school, prompting her to search for places her son could engage with others his age going through the same thing. She found nothing in Macon County.
"We had to go to Bloomington, Champaign, and Springfield, and I wanted something closer," she said. "And I also wanted something for other kids in this area as well."
So she partnered with retired pastor Mark Schleeter and created the Macon County LGBT youth group, last fall, for kids 12 to 19 years old.
"We have seen some of these kids just grow and shine, and you know, they started off real quiet and shy and now, you know, they're loud and they're having fun and they're being goofy."
Group member Jasper Jones says "Sometimes family doesn't understand. So, being with a group of people who are just like you, you can feel lot safer."
Trimble agrees.
"I have a community I can fit in to," she says. "This is where I belong. I now have words for who I am."
Schleeter calls these kids trailblazers for stepping into visibility in a region with an almost invisible LGBT community.
"Decatur's on a learning curve when it comes to the LGBT community," he says.
But these kids have faith in the place they call home.
"I think in the next 10 to 20 years there won't be much of a problem at all," said 14-year-old Ray.
A recent Supreme Court decision granted same-sex couples, nationwide, the freedom to marry. The ruling foreshadowed a brighter political and social future for LGBT Americans. The members of this group are determined to make sure Macon County is not left behind. The group meets every first and third Friday at the First Congregational United Church of Christ in Decatur. They meet from 6 to 9 p.m and welcomes kids between the ages of 12 and 19. Below is a link to the group's Facebook page and the direct contact information of its founders.
https://www.facebook.com/groups/845337292166506/
Jenny Cowgill
jcowgill@yahoo.com
(217) 794-2521
Mark Schleeter
(217) 246-2093