Top 25 EIU Opens 2015 Training Camp
Posted: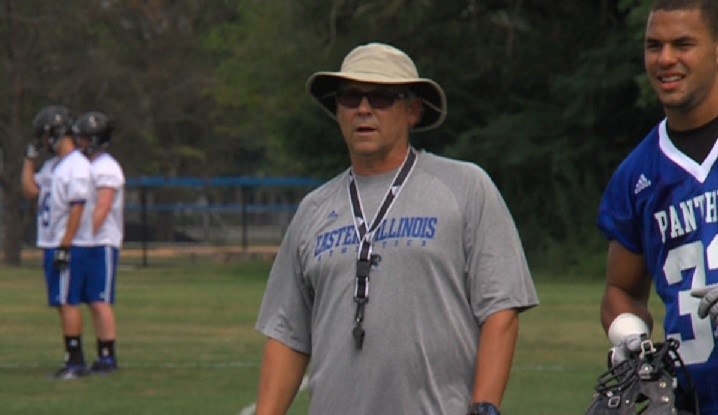 Charleston -- Another front loaded schedule won't be a legitimate excuse for EIU in 2015.
The Panthers opened camp Wednesday with plenty of preseason hype, despite coming off a 5-7 season in 2014.
"We've gotten some help. A lot of D-I transfers," said 2nd year head coach Kim Dameron. "I think it's a group that if they'll stay tight, they stay together and work for each other and pull for each other, they can be special."
The FCS coaches poll, released just hours before their first practice, tabbed EIU as the 25th-ranked team in the country. It's the first time they've been ranked in the top 25 since week 2 of 2014.
Coming off a national quarterfinal run, the Panthers had expectations to keep some program momentum, but stumbled out to a 1-5 record in their first six games.
Part of the explanation included opening the 2014 season against two FBS teams (Minnesota and Ohio), and two teams that finished the year ranked in the FCS top-20: 16th ranked Eastern Kentucky and national runner up Illinois State.
They won't get much of a reprieve in 2015. They travel to face Northwestern in week two. Then Illinois State, ranked 2nd in Wednesday's coaches poll, will be in Charleston to open the Panthers' home schedule.
"We can't do it again," said senior quarterback Jalen Whitlow. "We've got to start fast and carry that momentum throughout the season."
"It always seems like we've got a tough first part of the season," said senior defensive tackle Dino Fanti. "This is a new season."
EIU is among the handful of teams kicking off the college football on Thursday in week 1. Their matchup against Western Illinois kicks off at 6pm CT on September 3.