Key Position Battles in Focus as Illini Open Camp Rantoul
Posted: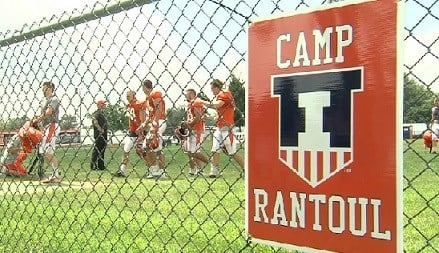 By Matt Loveless
RANTOUL -- It always has the hype and excitement of an NFL-style getaway camp.
Illinois players retreat to a dorm each night, eat all their meals together, and, unlike the rest of the season, every minute of practice is open to the public.
A day later than expected, the Illini opened up Camp Rantoul on Monday, their annual retreat to get away from the distractions of campus.
"It's orange and blue all the way, and it's good to see the people that come to camp every year," said senior offensive lineman Ted Karras.
One player said they don't even have access to WiFi during the two-week camp.
Head coach Tim Beckman said the lack of an internet signal isn't by design.
"No, I think that's just because it's Rantoul," he said, drawing laughs.
The Big Ten Network was at the opening practice for Camp Rantoul on Monday, their first tour stop of Big Ten camps, as was their tour bus featuring, among other Big Ten stars, Illinois QB Wes Lunt.
"I'm a little mad that I'm not on the bus," joked sophomore OL Christian DiLauro. "It's always fun, especially when we have those guys out. We try to ramp up practice a little bit, make it more fun, more exciting."
As is usually the case, the spectacle is just a backdrop for some important work happening between the lines.
The Illini are pushing through camp with almost no experience behind their starting quarterback (Wes Lunt) and runningback (Josh Ferguson). For obvious reasons, their health is a major priority as the coaching staff identifies the team's depth.
Their continued health, of course, will rely heavily on the big bodies protecting them. An experienced offensive line returns in four of five starting slots. The battle for left guard, which draws a lot of name-dropping by Beckman, is the coach's favorite position battle in camp.
"(Zach) Heath's looked good, and (Nick) Allegretti's looked good," Beckman went on. "(Pat) Flavin's there, too. (Chris) O'Connor, we've just got to make sure he's healthy."
Offensive Line Coach Tom Brattan returns for a second season with the group. He said, while solidifying a starting five was a top priority, they aren't going to rush the decision.
"As you get towards that starting five, then you pull one out because of injury. Then it's who's your first backup, who's your next backup?" said Brattan. "But you've got to develop some cohesion up front first."
The Illini aren't rushing to any judgements in Rantoul, a camp that will span 12 days and 13 practices.
They'll break camp on August 21 and return to Champaign to prepare for their matchup against Kent State on September 4.