Camp Rantoul: Illinois Staff Likes Options in Battle for Left Guard
Posted: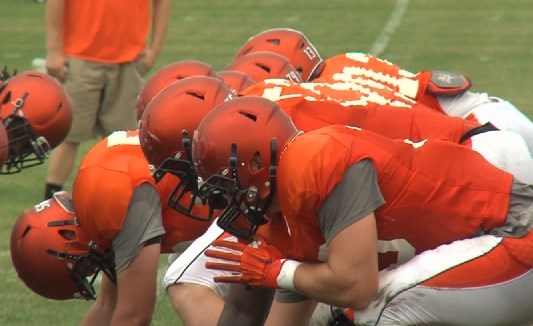 By Matt Loveless
RANTOUL -- There's a reason it's Tim Beckman's favorite position battle at Illinois football training camp.
The search for his starting left guard produces a long list of names.
"We've got four out of five that have played before," said offensive line coach Tom Brattan, "Pat Flavin and Chris O'Connor - they've played in games, they've been there before.
"(Zach) Heath's looked good, and (Nick) Allegretti's looked good," Beckman added.
Brattan tacked on another: "Connor Brennan."
That makes no mention of senior Chris Boles, who's been getting first teams reps, or freshman Gabe Megginson who, despite sitting out with an injury, figures to be in the mix -- unless the staff ultimately decides to redshirt the talented Jacksonville High School product.
"It's a tough competition," said senior guard Ted Karras, "We have a big core of guys who are trying to play, and everyone's really battling, but that just seems to be the most open spot right now."
The Illini will relish the opportunity for competition now, filling in just one spot in what's a well-established line otherwise. Building around center Joe Spencer, Karras (right guard), and tackles Christian DiLauro and Austin Schmidt, camp will be about finding not only a fifth starter, but a strong stable of big boys backing all of them up.
"You get towards that starting five, then you pull one out because of injury," said Brattan, "Who's your first backup, who's your next backup? But you've got to develop some cohesion up front first."
Added Karras, "I think it would be more beneficial to the team if we found 8 or 9 guys that could play."
In addition to the competition, the Illinois line will benefit from a little continuity in the coaching staff for the first time in the Beckman era. Brattan, who was hired just before the 2014 season, will be the first year-to-year holdover at the position since 2010.
For the sophomore DiLauro, that means an easier transition for whomever wins the left guard job.
"We know that when it's all said and done, whoever comes in and fills that spot, we're comfortable enough to be in there, we know where we're going, we know the calls," said DiLauro.
Illinois isn't going to rush a decision on the left guard position. Three weeks and about 25 practices stand between them and their week one matchup against Kent State.