Millikin Opens Training Camp, Picked to Finish Last in CCIW
Posted: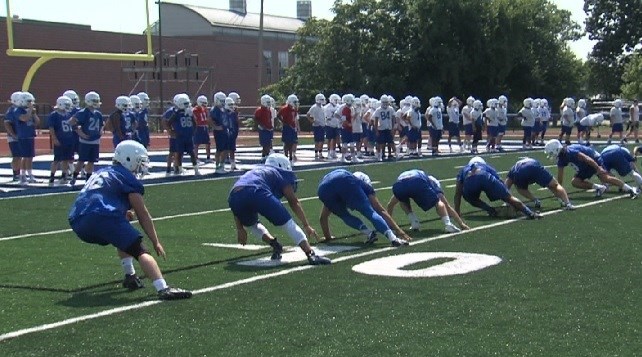 By Matt Loveless
DECATUR -- The opening of training camp for the Millikin Big Blue coincided with the release of the CCIW's annual preseason football rankings.
"I saw it, and I put it in the locker room for our guys," said head coach Patrick Etherton.
In short, those rankings don't think much of Millikin's chances, pegging them to finish 8th in the 8-team conference.
"It doesn't matter where you start, it's where you end," said Etherton. "If our guys need any more motivation - I think that's it. We'll be ready."
Some of the poor perception is due to last year's performance, for sure. Millikin finished the year 3-7, and 1-6 in league play.
However, part of it is also due the unknowns at a number of key positions, to which Etherton replied, "that's why we recruit."
The Big Blue could look a whole lot different in 2015, with a three man quarterback battle beginning this camp.
Senior QB Nick Pippin returns with 19 starts under his belt, but two transfers -- and central Illinois products -- are expect to push the Bourbonnais native for snaps.
Casey-Westfield grad Nikko Stepina and Urbana alum Cameron Mammen - who was the 2012 Champaign News-Gazette area player of the year - will factor heavily in a wide open competition.
Millikin will also have to replace leading rusher Justin Brooks, and are looking to a couple of freshman receivers - Mt. Zion's Mason Bruce and Austin Thacker - to make immediate impacts.
"Our coaches did a great job recruiting," said Etherton. "We also did a great job of going out and researching offensively and defensively what we fit best with our players."
Millikin has 22 days to get let those battles play out, opening the 2015 season with a home date against Greenville on September 5.