Smoot Learning on the Job As Replacement for Injured Jihad Ward
Posted: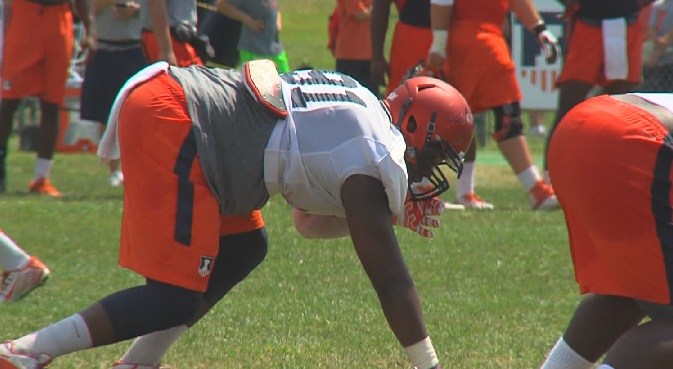 RANTOUL -- It's been the constant juggling act of Illinois football camp - how to fill in the voids of injured players.
The Illini have had to address that at key positions, really since the spring, and now are tasked with re-shuffling in the absence of defensive end Jihad Ward.
Ward reportedly underwent surgery Tuesday to help repair a knee he injured in practice last week. The injury is expected to keep him off the field 3-4 weeks, and to miss the first two games of the season.
A senior, Ward was the focus of NFL scouting interest early in camp, and will certainly still be expected to lead Illinois' pass rush during the Big Ten season.
In his place, junior DJ Smoot (6'4", 265 lbs.) is now getting first team reps, a junior who has spent the last two seasons at the team's linebacker-end-option (LEO) position.
"It's a lot of learning I haven't done," said Smoot, "so it's like I'm new all over again. I have to learn a whole different position."
It's hardly foreign territory for Smoot, who proved to be a more-than-capable pass rusher in 2014, tallying 7.5 TFLs and 2.5 sacks.
"We know he's capable of doing that," said head coach Tim Beckman. "He'll be rushing the passer all the time now."
Early in camp, Beckman said the defensive front-7 was one of his favorite position groups in camp, a unit that boasts plenty of strong options at a number of positions.
That's why pulling Smoot from his duties at LEO don't concern the coach.
"It makes Carroll Phillips step up and be that number one guy," said Beckman, of the 6'3", 240 lb. LEO, who transferred to UI in 2014. "Both of them did good (at their positions) in the scrimmage."
Illinois, hoping to avoid any more shuffling at starting positions, will start the season on Friday, Sept. 4 against Kent State.