John Groce Addresses Good and Bad of European Trip
Posted: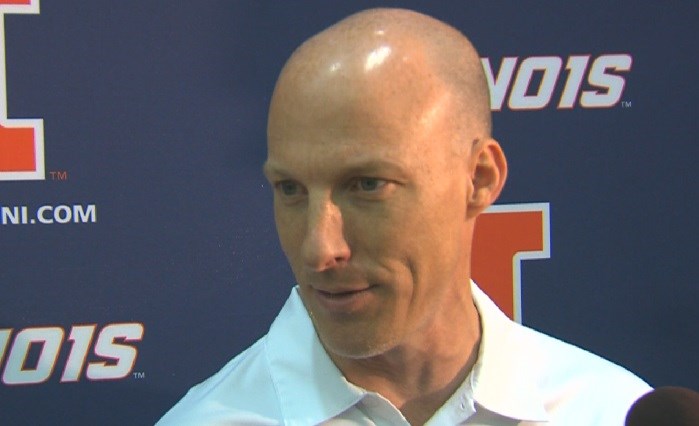 By Matt Loveless

CHAMPAIGN -- It almost went off without a hitch. Illinois' highly-anticipated 10 day tour of Europe provided some revealing basketball -- and one major slip-up by a now-former player.
The overarching feeling taken away by head coach John Groce, however, was appreciation.
"You look back and realize what an unbelievable opportunity it was for those guys," said Groce, who added only three on the team had ever left the country before.
The Illini played four games in Belgium and France, while taking breaks in between to enjoy the sights. Following the team's social media accounts, you would see selfies under the Eiffel Tower, or videos of the team taking an emotional visit to Omaha Beach.
All of that was overshadowed however, when Darius Paul - who was on the trip, but sitting out healing an injury - was arrested in Deauville, France on August 14. Paul was charged with vandalism, public intoxication and resisting arrest.
"You don't want to get that news, as a coach," said Groce, when asked about his reaction immediately after hearing about the arrest. "If you do it long enough, you're probably going to get it at least once at some point."
Paul was immediately sent home, and later dismissed from the team. Groce said he's still working with his family to help him figure out his future after Illinois.
It wasn't his first scrape with the law. Paul was arrested in April 2014 in Champaign, and subsequently suspended for a year. Looking back, Groce doesn't regret giving him a second chance.
"I've done that my entire career," said Groce. "At some point, accountability becomes a factor. Culture becomes a factor, and you certainly - as a parent or a coach - don't want to be an enabler."
A majority of Groce's Wednesday session with the media, though, was about a revealing 10 days with a new-look basketball team.
The coach laid out three takeaways from the trip -- The team's a lot closer, he values the extra 10 practices he got with them, and he was impressed with the competition the group faced - comparing it to other foreign trips he's taken with different programs.
"I though cumulatively, it was the best that we went against, on any of those four trips at the places I've been, and I though that was good," said Groce.
Illinois will spend the coming months finding out who they have with transfers like Kahlid Lewis and Mike Thorne, or incoming freshman DJ Williams, Aaron Jordan, and Jalen Coleman-Lands.
Specifically referencing Williams and Jordan, Groce gave a funny anecdote to illustrate just how much they need to learn.
"I think they learned they need to get stronger physically," said Groce, while chuckling. "You can tell them that, and they can have some of that in practice, but when you're playing against the Netherlands National team and you're trailing a stagger, and a guy who's 28 years old and 6-foot-11, 250 pounds screens you at the end of that stagger, and you die on the screen, that's a little different than getting screened in high school."
The Illini are now starting a 6-week preseason training program, giving the young players some extra attention the first two weeks.
The season opens in November 13.