Cubit in Unique Position, Ready to Lead
Posted: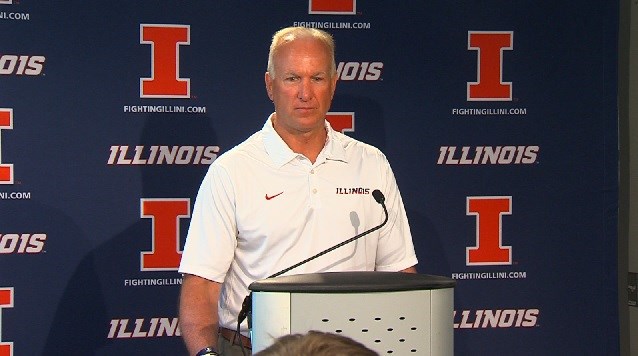 CHAMPAIGN -- Bill Cubit has experienced a lot during his 40 year coaching career. But seeing your head coach get fired seven days before the season opener?
"It's been a little hectic, and I'm really fortunate that I've had head coaching experience."
Those were the words of Cubit when he addressed the media Friday, moments after Illinois athletic director announced the dismissal of head coach Tim Beckman. Cubit takes over the program as interim head coach.
"I can adapt pretty quickly, because of some of the things we've done in past places," Cubit said. "...I love this university. I really love these student athletes. For me it was a no-brainer to go in there, and take it over. And that's what I'm going to do."
Thomas says Cubit will be considered for the full time position if he's interested.
By the sound of it, he might be interested.
"I love this place. I really do...I love the people here. I love the student athletes," Cubit said. "I love the fans. I mean, believe it or not I love you guys (the media)."
Cubit admits he isn't worried about his future with the program. His main focus is getting the team ready for Friday's opener against Kent State.
"I told our guys we'll worry about tomorrow when tomorrow comes," Cubit said. "It's our (the coaches) job to get those kids ready to go and play next Friday. I'm sure that our student athletes will go out there and they'll do a great job."