Lightning Postpones Illinois-Kent State to Saturday, 1pm
Posted: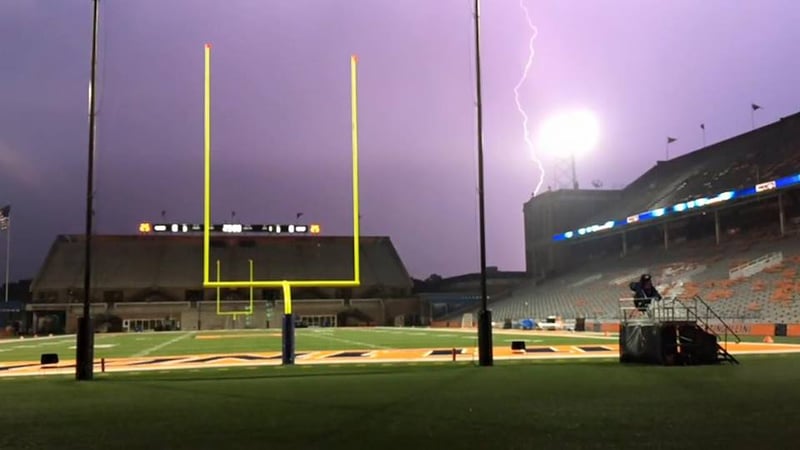 Champaign, Ill. - Due to inclement weather on Friday, Sept. 4, the Fighting Illini have rescheduled the football game against Kent State to Saturday, Sept. 5 at 1 p.m. CT. The game will not be televised, but it will be streamed live on BTN2Go.
To make this process as smooth as possible for all fans, the following options will be available for all patrons:
• All tickets that were purchased for the Friday night game will be valid for Saturday's rescheduled game. Fans will be able to enter the game by showing their game ticket from Friday night.
• Tickets can be purchased for the game on Saturday for $10 in the prime or sideline seats and $5 in the orange or blue zones.
• Tickets can be purchased online at FIGHTINGILLINI.com, or in person at the Memorial Stadium ticket office. The ticket office will open at 9 a.m.
• UI students with a valid I-Card will be granted complimentary admission to Saturday's game.
• All parking is free and open to the public on a first-come, first-served basis, except for lots 35, 36 and 37, which remain reserved for patrons with parking passes for those lots.
• Parking lots will open at 9 a.m. Vehicles currently in grass lots can remain overnight. Vehicles may be removed from grass lots when possible. No new vehicles will be allowed in grass lots on Saturday. Parking in lots 35, 36 and 37
• Memorial Stadium gates will open 90 minutes before kickoff, at 11:30 a.m.
• The Legacy Lounge and Stadium Club at the I Hotel will not be open.
• Current Fighting Illini football season ticket holders will be sent two complimentary tickets to the home game vs. Middle Tennessee State on Sept. 26.