Millikin Promoting 100th Homecoming with "100 Challenge"
Posted: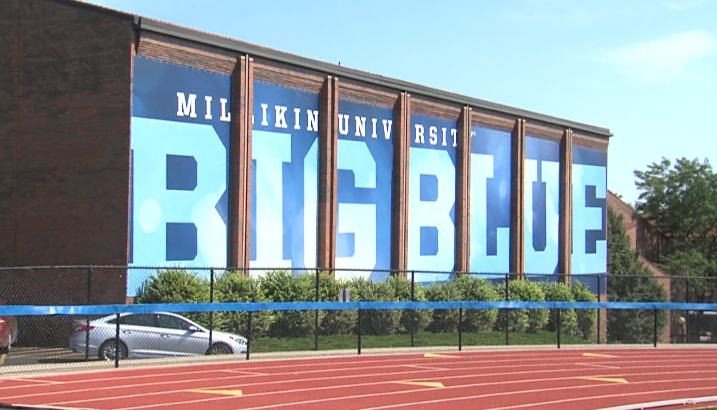 DECATUR (via Millikin Athetics) — In celebration of Millikin University's 100th Homecoming, the Big Blue Club is asking for your financial support of a 100 Challenge.
The Big Blue 100 Challenge is seeking $100 gifts each from a total of 1,000 donors to make a resounding $100,000 impact on Millikin's athletic teams and student-athletes.
The Challenge will run during Millikin's 100th Homecoming Week, starting on September 28 and concluding at midnight, October 4.
Supporters are ask to give a single $100 gift each or to give $10 a month for 10 months. There are three ways to make a gift:
Visit http://bit.ly/MU-BB100 to make an online credit card gift;

Text BB100 to 41444; or

Stop by the 100 Challenge Table located at Millikin events throughout Homecoming Week
After making gifts to the 100 Challenge, donors are encouraged to help spread the word about this fundraising drive on social media using the hashtag #BB100.
"The Millikin Athletic Department's mission is to create meaningful and enjoyable student-athlete experience," said Millikin Director of Athletics Dr. Craig White. "We are preparing them for their lives after college, and participating in competitive athletics is a great example that performance learning is alive and well at Millikin. I encourage you to enhance this opportunity for our student-athletes by making a donation in the Big Blue Club 100 Challenge."
"I'm excited and optimistic about how successful our Big Blue Club 100 Challenge can be," said Dan Bolsen, Associate Director of Development – Athletic Liaison. "There is going to be a big push for the Challenge throughout Homecoming Week, so I encourage all Millikin alumni and friends to jump on board. We want Big Blue student-athletes to have the best four years a university can provide them, and the 100 Challenge is an important financial push for us as we look at new ways to create the best experience."
The Big Blue Club is the official athletics booster club of Millikin Athletics. Donations made to your favorite Big Blue athletics program go directly to support that team's budget. General donations made to the Big Blue Club support the department's greatest need.