A Place To Call Home
Posted: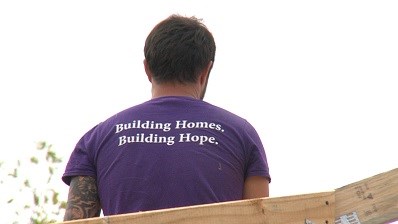 GIFFORD- Justin Marshall and his family will soon be able to move back to their hometown of Gifford after they lost their home to the tornado almost 2 Novembers ago.
Marshall said, "The only thing we heard was shattering glass and just creaking and cracking the boards. It lasted about 2 seconds but it felt like 20 hours."
The 4th house to be completed with the help of Habitat for Humanity and a veteran service group, Team Rubicon the Marshalls not only are receiving something so many of us take for granted a place to call home but guidance on budgeting, credit and much more.
Marshall said, "To be honest I didn't have the means to do it myself I probably would never have done it but Habitat for Humanity they don't just help you build a house they help you build your credit."
Kim Gollings, Habitat's Volunteer Manager said, "One of the great things about Habitat is that we are a hand up not a hand out and so the families are always out here working directly with us they have to do those 250 sweat equity hours and that's kind of considered their down payment."
The construction is said to be complete in time for the Marshalls to enjoy the holidays back in Gifford.