Allison Added to Biletnikoff Award Watch List
Posted: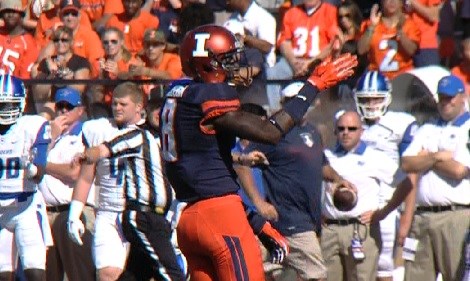 TALLAHASSEE, Fla. - University of Illinois senior receiver Geronimo Allison (Tampa, Fla./Spoto/Iowa Western CC) was added to the watch list for the 2015 Biletnikoff Award on Tuesday. The Biletnikoff Award is given annually to the nation's top receiver. Allison is off to a big start to his senior season, currently standing 22nd in the Football Bowl Subdivision and third in the Big Ten in total receiving yards (362).
Allison has two 100-yard receiving games this season, including a career-best 10-catch, 128-yard performance against Middle Tennessee on Saturday. He leads the team and ranks third in the Big Ten in both receiving yards (362) and receptions (24) and is 40 yards shy of reaching 1,000 receiving yards in his Illini career.
Allison is one of the top big play threats in the nation, hauling in seven receptions of 20+ yards already in 2015, tied for 13th most in the nation and approaching his 2014 season-long total of nine. His season-long 42-yard reception against Middle Tennessee is the longest pass play for the Illini this season.
Starting Oct. 1, fan voting will be open for the Biletnikoff Award here, with fans able to vote once daily. The aggregate fan vote tally will be counted as one official vote to determine semifinalists, finalists and the winner. In 2013, the fan vote tally provided the one-vote margin of victory for Biletnikoff Award winner Brandin Cooks of Oregon State. The 2014 winner was Alabama's Amari Cooper.
The Biletnikoff Award is presented annually to the nation's outstanding college football receiver by the Tallahassee Quarterback Club Foundation, Inc. Ten semifinalists will be announced on Nov. 17, with the group being whittled to three finalists on Nov. 24. The winner will be announced as part of the Home Depot College Football Awards Show, Dec. 10 at 6 p.m. CT on ESPN.