Ke'Shawn Vaughn Coming up Big in Backup Runningback Role
Posted: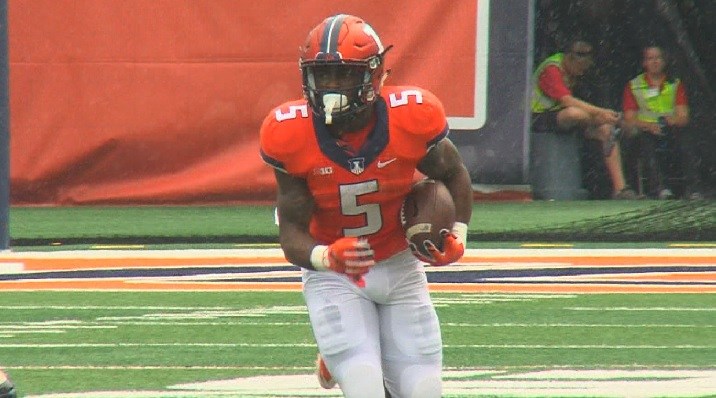 By Matt Loveless
Champaign -- The Illini hoped Ke'Shawn Vaughn could become a star, when he was a last-minute addition to the 2015 recruiting class.
It's still early, but the true freshman runningback is already showing signs that he's the long-term answer for Illinois at runningback.
"He fell in love with Illinois in the summer," said recruiting coordinator Alex Golesh said on the day Vaughn committed. "And he knew, that we had one guy here that's carried the ball. Ever."
Indeed, the Illini began 2015 without much experience in the backfield behind senior Josh Ferguson. Ferguson came into the year with 1,878 career rushing yards.
The rest of the runningbacks on the roster combined for 0.
Add in the fact that Ferguson is running a little more aggressively thus far in 2015, and the Illini knew they would need to find a reliable number two.
"Josh isn't running out of bounds," noted head coach Bill Cubit. "Josh is getting positive yards and knocking it in there. You're going to take a little bit more of a pounding, but that's the Big Ten."
"And that's where Ke'Shawn really fits in."
Vaughn handed in an impressive relief appearance Saturday against Middle Tennessee. Amid reports that Ferguson was dinged up, Vaughn rushed for 80 yards on 13 carries -- a 6.2 average -- all in the 2nd half.
"Ke'Shawn's going to play a fair amount for us, " said Cubit. "And the good thing is, right now we can trust him."
"He really changed," said junior QB Wes Lunt. "I haven't seen him run like that since he's been here. He's done a really good job all year, but he really showed us what type of back he can be in the future, and what type of back he is."
Vaughn and the Illini open up Big Ten play Saturday, hosting Nebraska for a 3:02pm CT kickoff.